I've tasted wine in some pretty cool locations before, from New Zealand to Portugal and Italy, and there's no denying that each experience is unique and special in its own way. There are great wine experiences and then there are the exceptional ones… the pinch-me-is-this-real tasting where history, excellent wine, fantastic views and off-roading winery tours all come together. Where on earth could this possibly have taken place? None other than Mayacamas Vineyards, about 25 minutes outside of Napa on Mt. Veeder.
Mayacamas hasn't been open to the public for a while as it's been undergoing renovations, but Nick and I had the opportunity to visit and taste through their line-up of current and past vintages. Everything lived up to the hype. I can certainly attempt to share the awesomeness of Mayacamas in words and pictures, but in order to fully grasp the experience, it's good to know some of its history.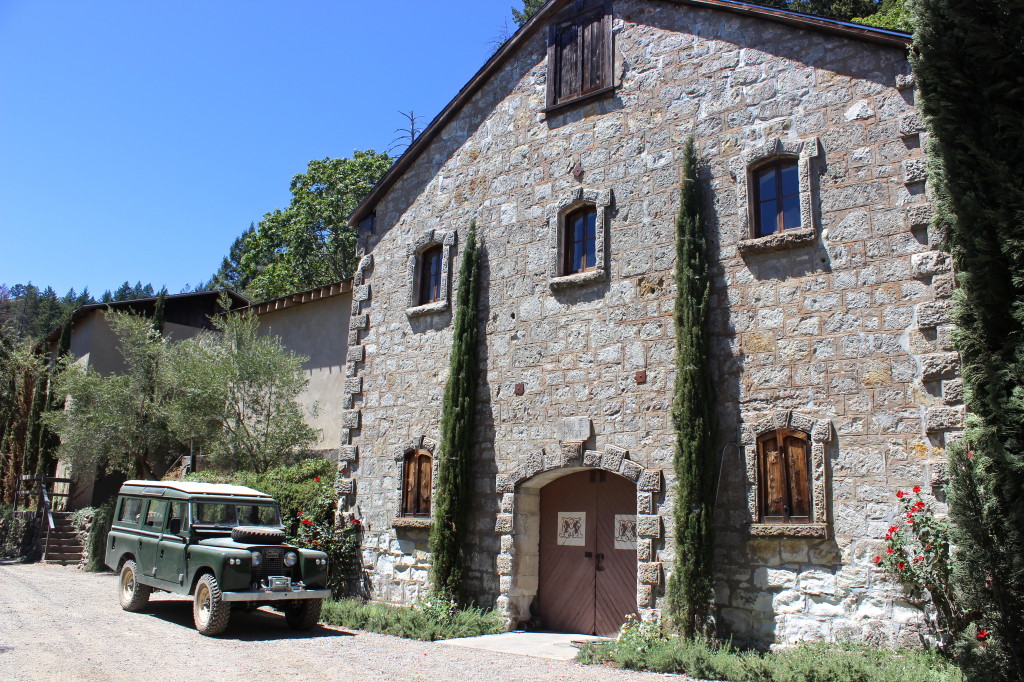 The historic winery was first built in 1889 by John Henry Fisher, a German immigrant who moved to San Francisco and became a pickle merchant. Yes, that's right, he was in the pickle biz. Mr. Fisher decided he wanted to grow Zinfandel grapes, and soon established the winery on the grounds of what used to be an old sheep ranch, naming it Fisher and Sons. In 1906, the San Francisco earthquake destroyed his pickle business, forcing Fisher to sell the winery estate at auction due to financial hardships (for $5,000).
After Prohibition, the property changed hands and ended up being bought by a British man, Jack Taylor, and his Californian wife, Mary. The Taylors revitalized the winery in 1941, planting Chardonnay and Cabernet vines and producing varietals under the Mayacamas label. At this point, the winery still didn't have electricity and relied heavily on its gravity-flow design for wine making.
In 1968, Bob and Elinor Travers purchased Mayacamas, and honed in on making Chardonnay and Cabernet that showed incredible complexity and longevity. In 1976, their '71 Mayacamas Cabernet was selected for the Judgment of Paris wine competition, which pitted California wines up against the most highly regarded Old World wines in a blind tasting. This pivotal event in wine history established American wines as being among the finest in the world, and Mayacamas placed 7th overall (followed by 2nd and 3rd place in the replays of the event in 1986 and 2006).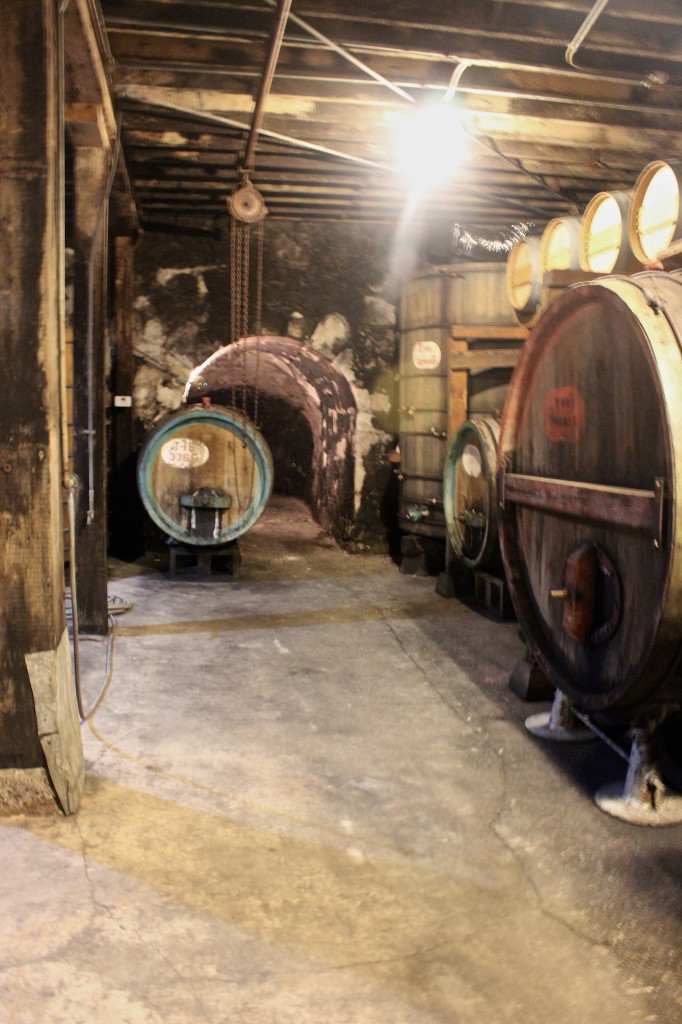 In 2013, Mayacamas was purchased by Charles and Ali Banks in partnership with Jay and Joey Schottenstein. You may recognize the name Banks from my earlier post about another winery in their Terroir Selections' lineup, Cultivate Wines. They're good people that know good wine, and have taken special care to preserve Mayacamas while making a few outstanding upgrades and bringing it to a whole new level of special. It must be their Southern hospitality rubbing off…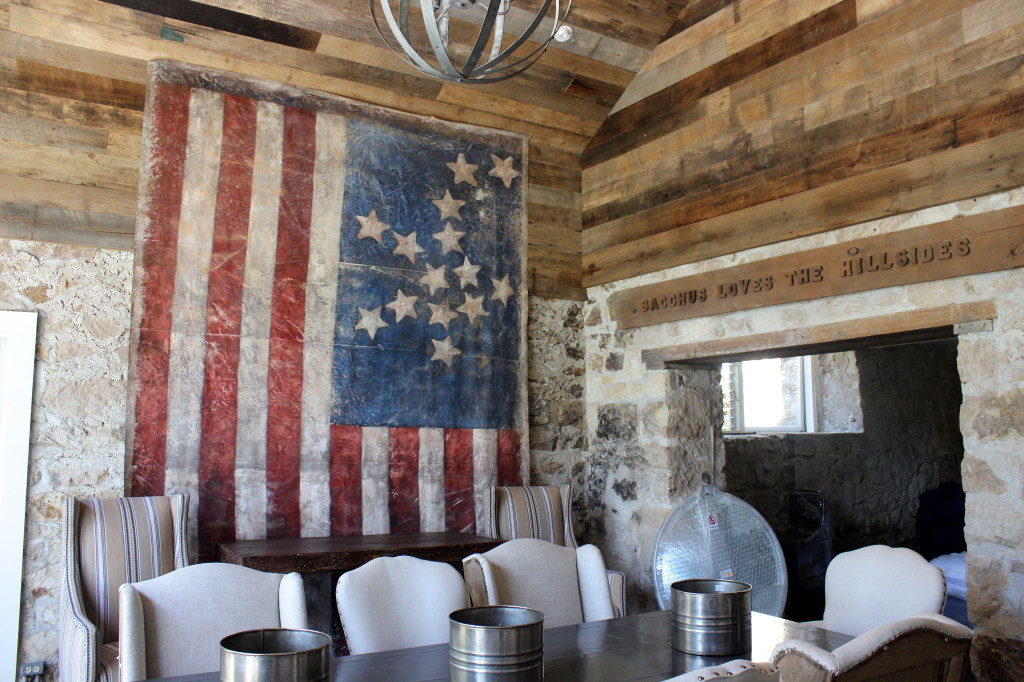 When Nick and I arrived on the property, we were greeted by Artie Johnson, Mayacamas' hospitality manager. Artie showed us around the winery and winemaking facility, explaining much of the history that has been paramount to Mayacamas. The original 1889 stone winery is still there, retrofitted to meet more modern winemaking needs but still showcasing the history of the building.
There are now 52 acres of vineyards on the property (and 10-20 more acres being planted), where the grapes grow on the steep, rocky hillsides 1,800 to 2,400 above sea level. The oldest vines are Chardonnay, which were planted in 1950, followed by the Cabernet vineyards planted in the early 1960s. Sauvignon Blanc, Merlot, Cabernet Franc and Pinot Noir were later added in the 1980s. Don't worry, we took an off-road vehicle (aka UTV) around the property to check out the vineyards, just another Saturday…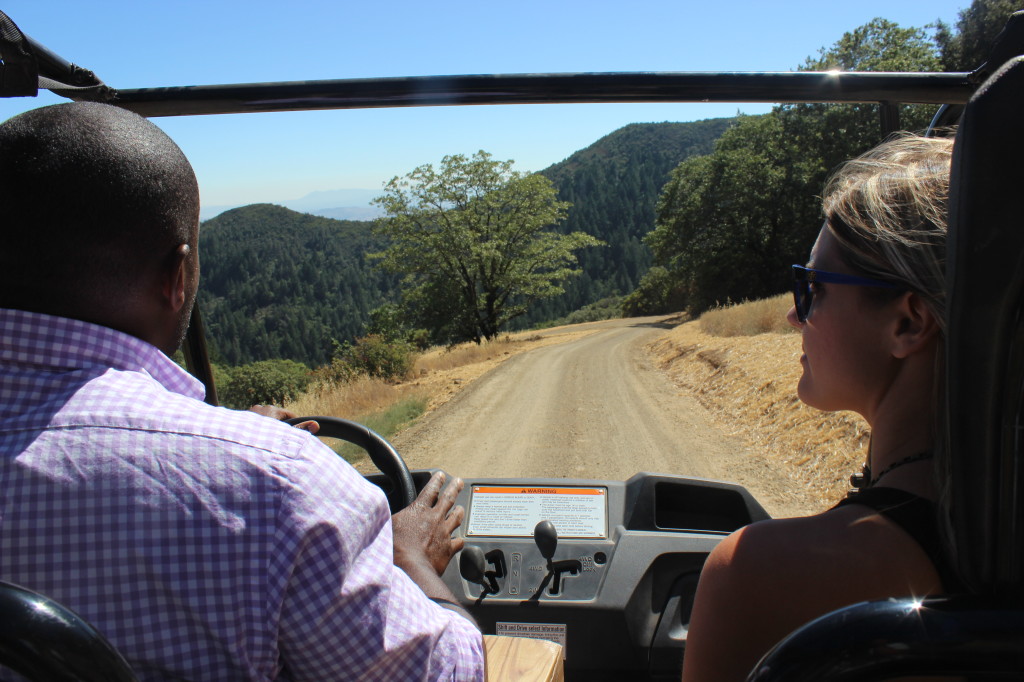 We then drove up to the top of the mountain to taste the wines overlooking Carneros and San Pablo Bay. You can even see San Francisco on a clear day! Pretty incredible 'wine tasting room,' don't you think?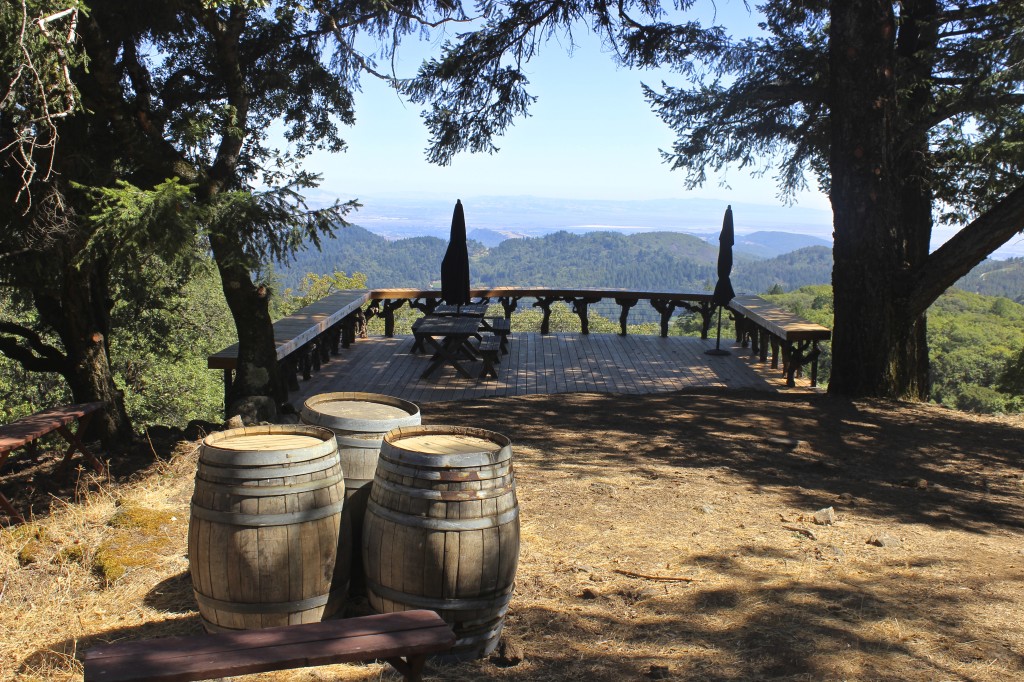 We first started with the 2012 Sauvignon Blanc ($40), which was bright with citrus, honey and guava. I could drink this all summer long. Great for drinking now or putting down for a few years, but rumor has it they might not make SB much longer. Get it while it's still around! We also tasted the 2010 Chardonnay ($65), which spent 10 months in neutral oak. Lean, crisp and full of notes of lemon and pear, this is a standout Chardonnay that everyone can appreciate. I was glad we got to compare it to the 2006 Chardonnay ($90) which has vibrant tropical pineapple and citrus fruit with notes of caramel and fig. It's well-rounded and complex. Killer Chard, especially for someone who is not a regular drinker of this varietal.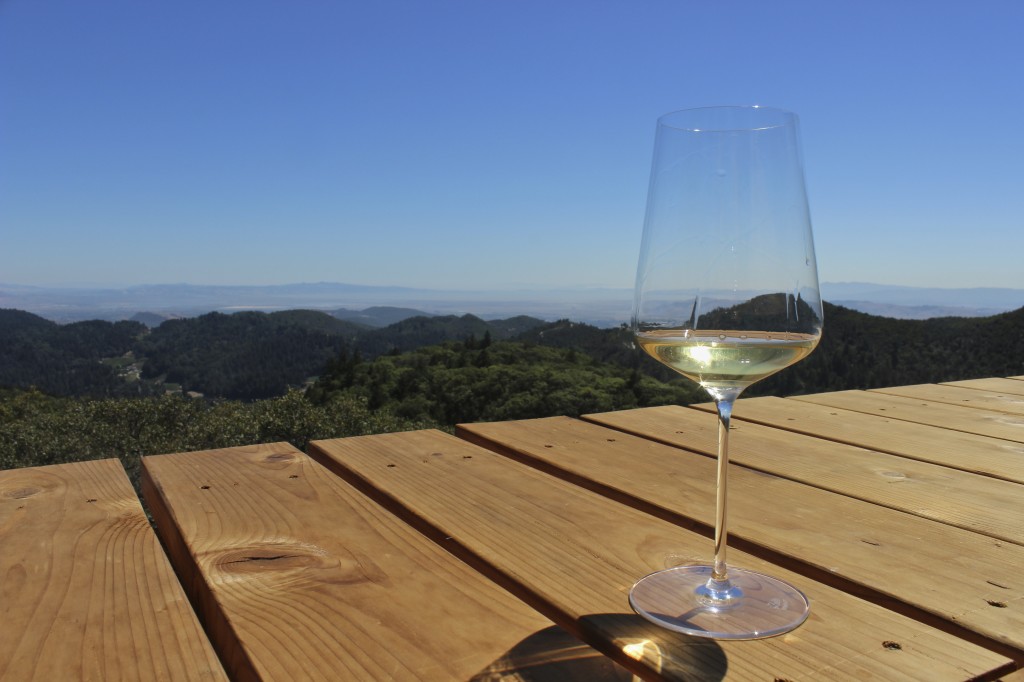 Now, onto the Cabernets, which is what Mayacamas is well known for. We sampled the 2008 Cabernet ($125), which has a certain restraint and elegance to it already, but will certainly age amazingly well. Lastly, the 2004 Cabernet which is rich with deep, dark fruit and leather, tobacco, fig and dark chocolate. Super complex, super delicious. Such a treat. Across the board, the wines are age-worthy, balanced and rustic yet completely refined. Certainly worth seeking out.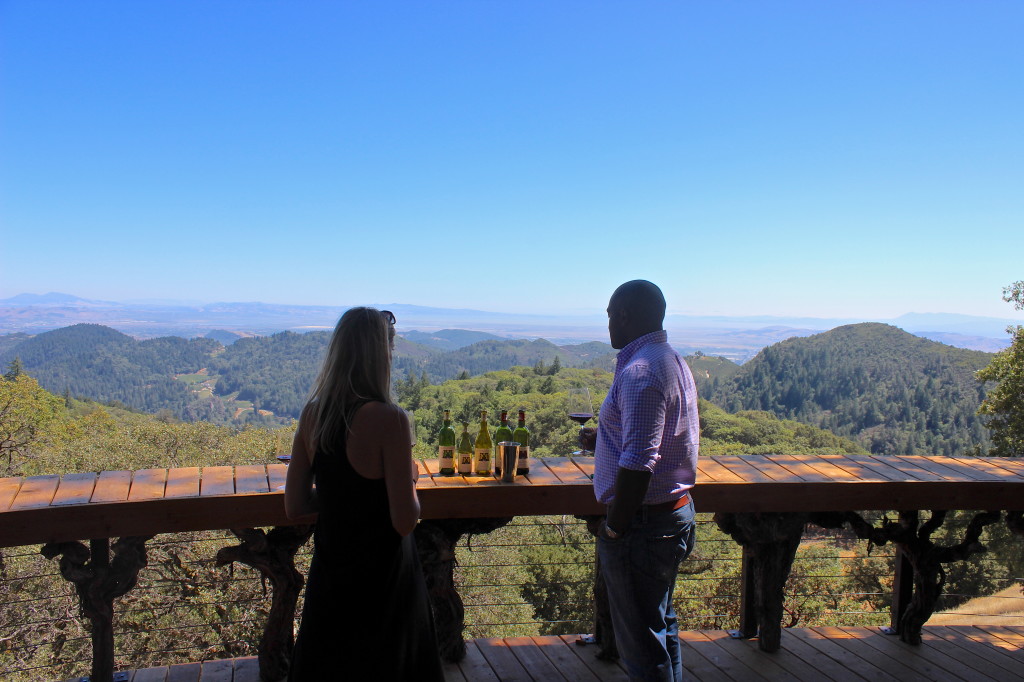 For decades, Mayacamas Vineyards has been one of the premier Napa Valley producers of single-varietal Cabernet, and I highly suggest you taste the exceptional character and complexity of the winery's mountainous fruit at some point in your life ….and if you can make it to the winery to taste the wines there, even better.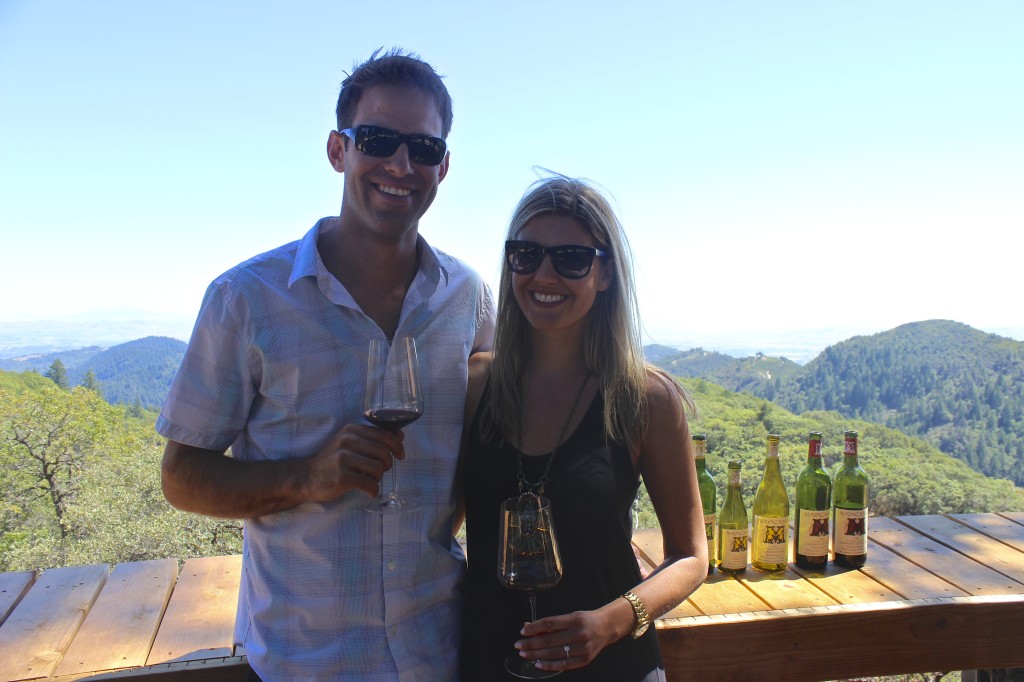 What are some of your favorite wine tasting experiences? I'd love to hear! Cheers!
Fun Fact: Mayacamas is believed to have meant "the howl of the mountain lion" in the Native American Wappo language. The Mayacamas Vineyard label pays homage to that meaning, with the 'M' bearing two dancing lions.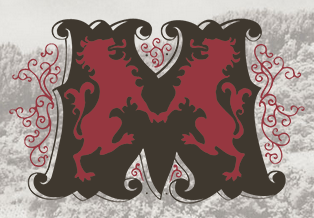 Want more? Read about the 1989 Mayacamas Cab I got to try at Pebble Beach Food & Wine.
Pin it!