There's a little slice of Tuscany in Paso Robles thanks to the newly opened Allegretto Vineyard Resort, located about a 5 minute drive from downtown Paso. Technically the first 'resort' in Paso Robles wine country, the Allegretto opened last fall and I was looking forward to experiencing it firsthand (and crossing my fingers it would transport me back to my time living in Italy!)
INFLUENCED BY ART
The 171-room Allegretto Vineyard Resort, Paso, which is modeled after the abbeys and monasteries in Italy and France, is owned by hotelier Douglas Ayres of the Ayres Hotels family. Inspired by the unique architecture seen during his travels, Doug wanted to create an escape that blends the charm of California's Central Coast with the grandeur and history of Europe. Throughout the hotel, you'll find numerous works of art, including paintings and sculptures, all from the Ayres' personal collection, adding to the European vibe. As someone who has a degree in Art History, I could appreciate the variety of artwork included. Rumor has it they may be adding an 'Art Walk' tour for guests to learn more about the featured art.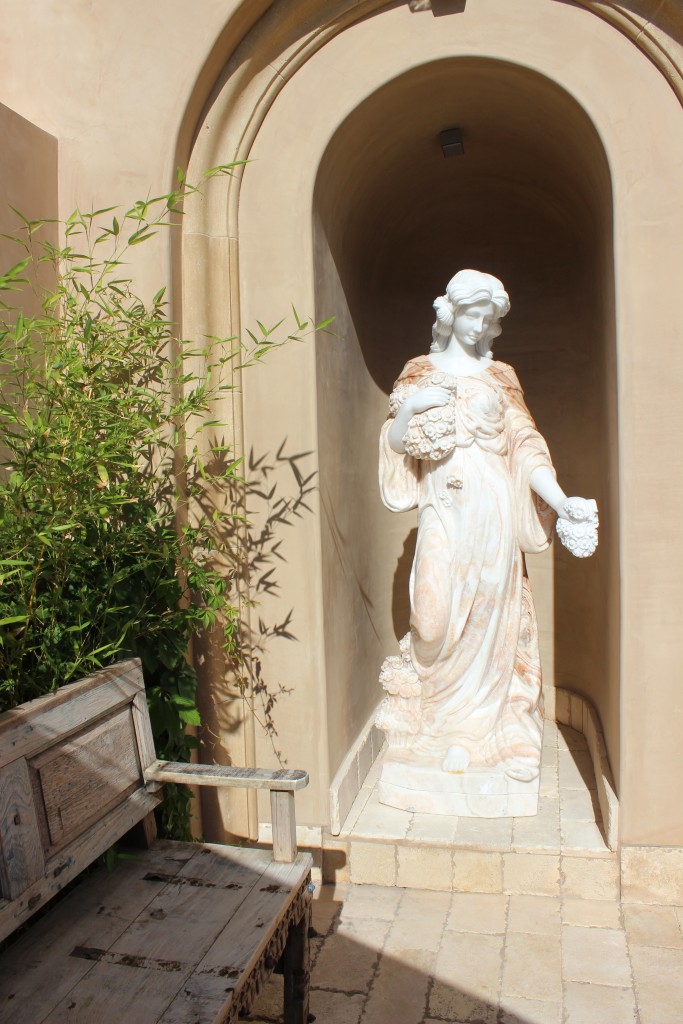 A highlight in the collection is this ancient Sequoia tree, which stood between 250-300 feet high. It's over 2,000 years old, which is pretty incredible!
THE NAME
Art and music certainly seem to be the themes at the Allegretto. In fact, the resort is named after the musical term, Allegretto, which describes a cheerful, moderate tempo of 112-120 beats per minute–it's neither too fast nor too slow, but comfortable. The Allegretto Vineyard Resort was named for the sense of comfort and harmony they hope guests feel upon arrival. Given the peaceful ambiance, number of amenities available, and varied places to sit and relax near a fireplace or fire pit, they really do make it easy to enjoy a relaxed, comfortable pace.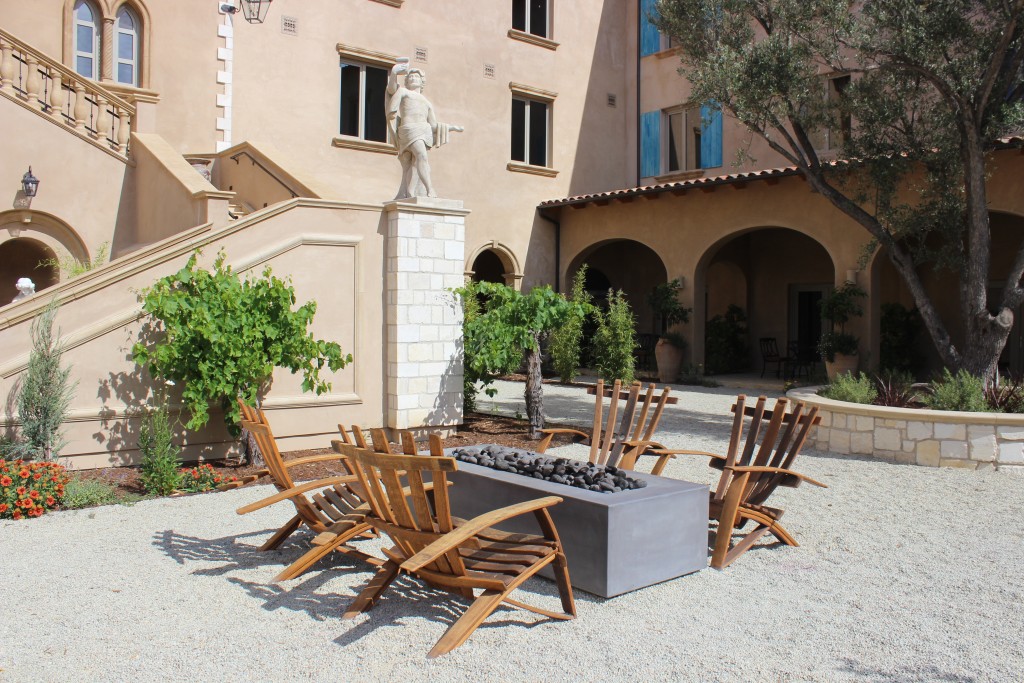 Besides the cool tree, a major highlight of the hotel is the courtyard, as seen below from our room.
Trust me when I say you will want to have your morning coffee in that courtyard, an afternoon glass of wine and a cheese plate there, and end the night with a drink sitting next to one of the courtyard's fire pits. It's super relaxing… and at 12,000 square feet, my guess is that it will never feel crowded.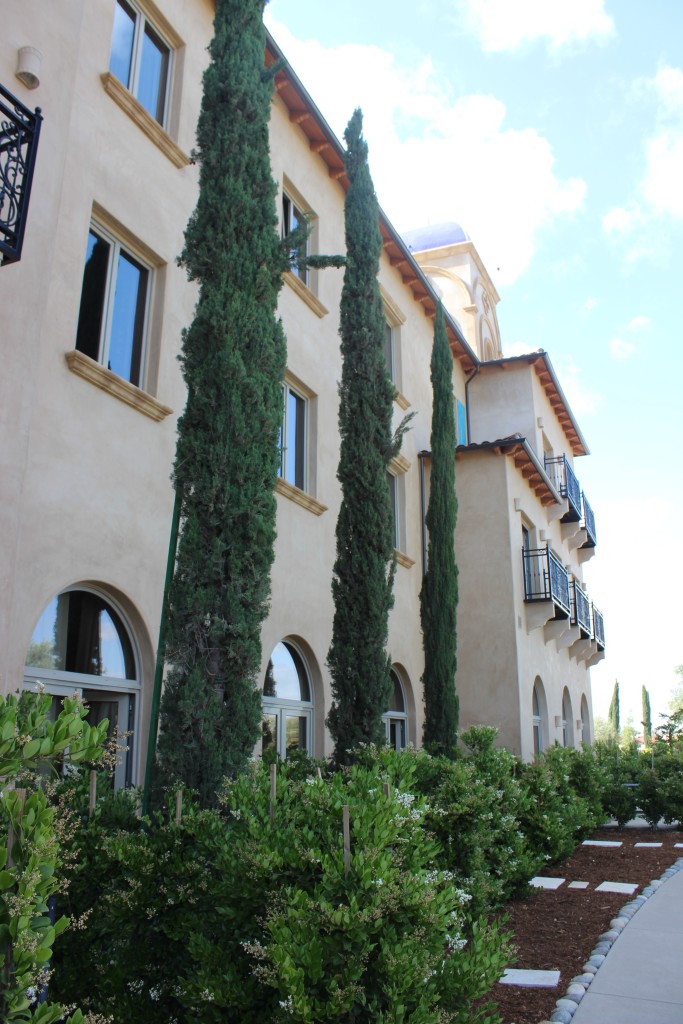 From a resort scale, the place really isn't that big and feels more intimate than many resorts. You can easily access the pool, check out the French-inspired chapel, and wander through manicured gardens without going very far.
Near the restaurant, there's a chef's garden, two bocce ball courts, corn hole and more fire pits. You can bet we took advantage of a little afternoon game time!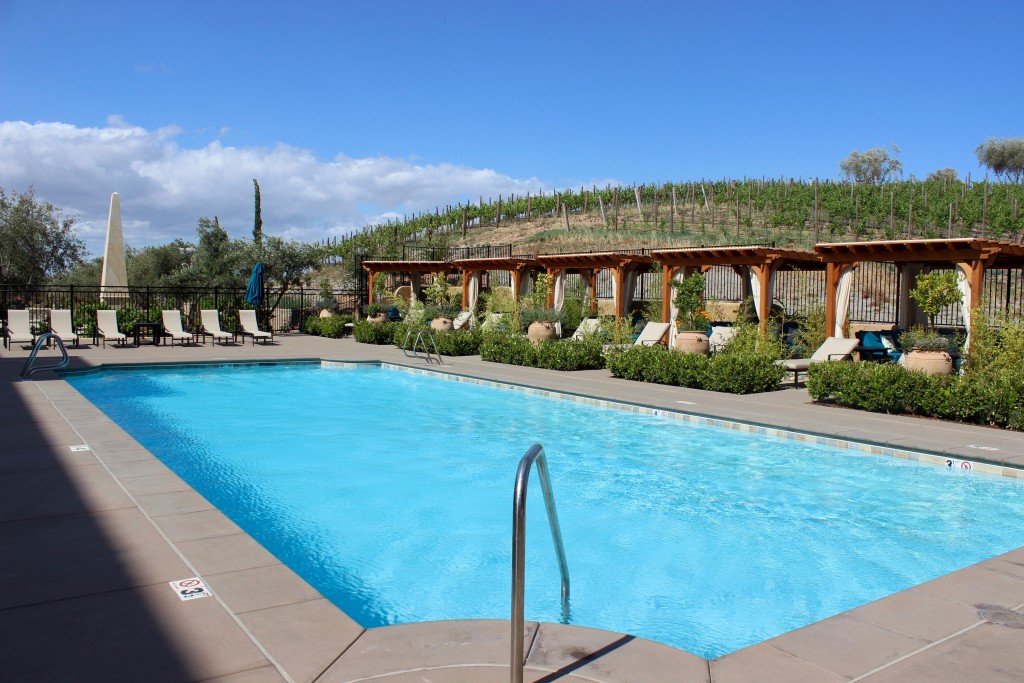 Behind the hotel and pool are 20 acres of vineyards and olive trees. The Allegretto actually has its own namesake wine label, producing varietals like Viognier and Tannat from the property's vines.
THE FOOD
There's one restaurant onsite, Cello Ristorante & Bar, operated by Chef Olson who is the former Executive Chef of the Ojai Valley Inn & Spa. Breakfast, lunch and dinner are served and everything is regionally sourced. Nick and I had a couple of meals here, but we especially enjoyed our breakfast. The smoothie was delicious, and you just can't go wrong with a poblano chile stuffed with local cheese and egg.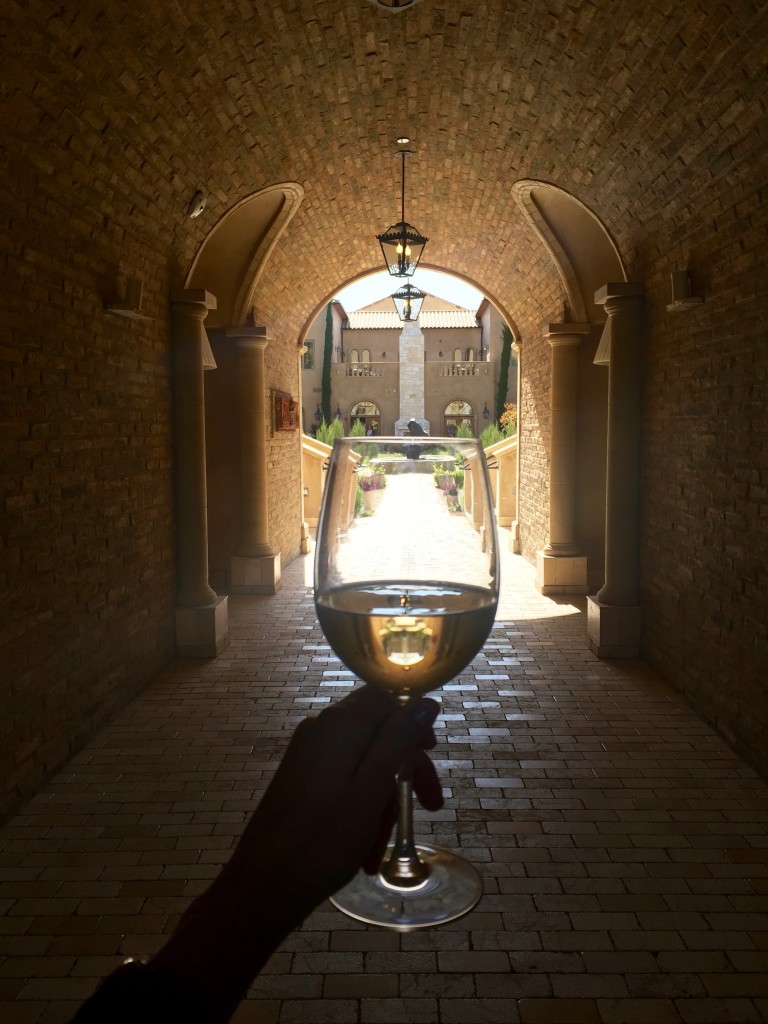 Although we wished we had brought our dog (the resort is dog-friendly), Nick and I had a great time. Our only complaint is that we didn't have more down time to take advantage of the resort's amenities. Not going to lie, it was really tempting to scrap our wine tasting plans and hit the Allegretto spa. Maybe next time…
Overall, this is a great addition to Paso Robles, especially since there aren't any real resorts close by. Rooms start at $350 a night, so if you're looking for a weekend getaway for some R&R, check out the Allegretto Vineyard Resort.
—
Thank you to the Allegretto Vineyard Resort for hosting me during my stay.  As always, all opinions and photos are my own.