I've written about the Funk Zone more times than I can count on one hand… for magazines, online publications, on my own blog as well as on other blogs. I don't just talk the talk, I actually live close by and frequent the area regularly. So, it goes without saying that I was excited for the highly anticipated Helena Avenue Bakery to open. Freshly baked cookies and bread? Sign me up!
The Space
Helena Avenue Bakery, which shares the same industrial space as the Santa Barbara Wine Collective, is part of the Acme Hospitality group. In case you aren't familiar, Acme is known for their extremely popular spots The Lark, Lucky Penny, and Les Marchands. The bakery was established to provide custom baked goods for these restaurants and others throughout SB… but also serves as a place for anyone to quickly grab a bite while tasting wine in the area.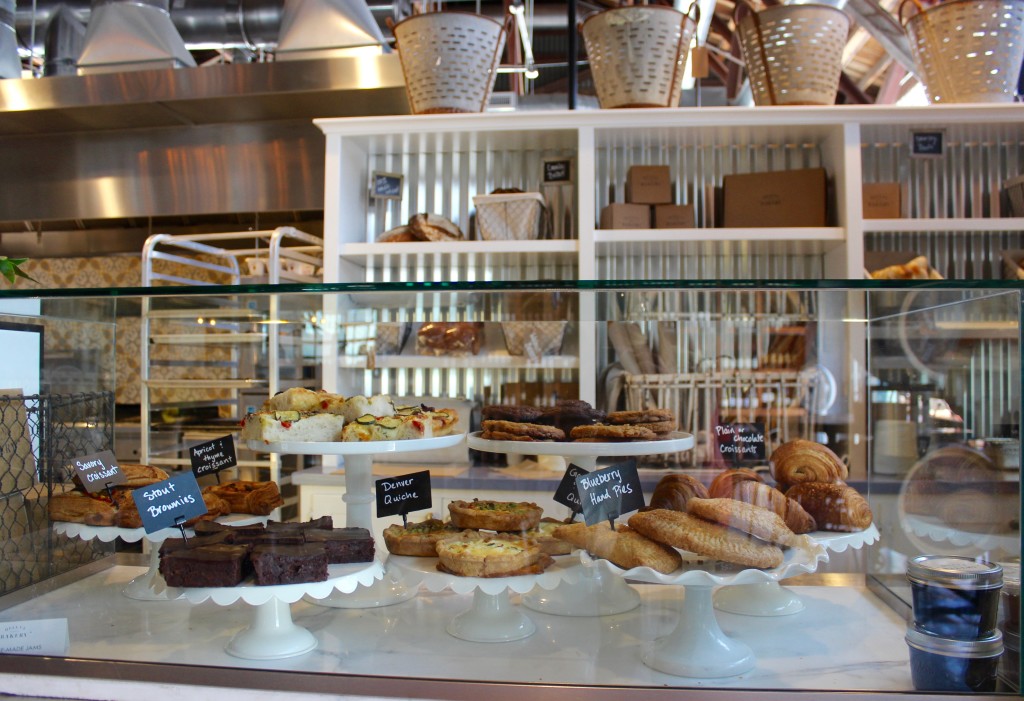 The retail space, called the Picnic Counter, offers a variety of pastries, quiches, and hand pies for dine in or take-out. Now you finally have an excuse to pair Chardonnay with your croissant! There's also a small lunch menu offering sandwiches and salads, like ham and butter with radish on a baguette — perfect for packing a picnic to head to the beach.
The Food
I was able to attend a preview of the bakery's offerings shortly before the grand opening last week and was not disappointed. Carb lovers rejoice – this bakery is the real deal. Although you really can't go wrong with anything, I was really impressed with the cold fried chicken sandwich. Oh, and the perfectly cooked cookies, like chocolate chip and peanut butter brittle, were just delicious. YUM.
With the number of tasting rooms and breweries in the Funk Zone, there really aren't that many options for food. Luckily, you can now count Helena Ave Bakery on the short list of worthy places to eat. If the smell of freshly baked bread doesn't lure you in, then the post-wine tasting hunger absolutely will. Plus, it's fun to watch the bakers in action through the open concept kitchen.
Helena Ave Bakery is located at 131 Anacapa Street off of Yanonali (close to Helena Avenue for which the bakery is named) and is open from 12-6pm. Don't worry, you don't need to be 21 to enjoy the goods!