I admit it… I am a taco addict. I never seem to tire of this Mexican food staple that makes its way into my stomach on a weekly basis. Which I guess is okay since I live in Santa Barbara where there are plenty of taco options! One of my favorite taco spots, though, is a relative newcomer to Santa Barbara: Corazón Cocina.
The casual Corazón Cocina, located inside the Santa Barbara Public Market, is owned by Chef Ramón Velazquez. Formerly operating as a Sunday pop-up inside a sandwich shop, Corazón earned a devoted following well before arriving to its permanent home in The Public Market, where that pop-up spirit still lives on. For mouthwatering, inventive regional Mexican cuisine that's quick and easy, it's hard to beat. Focused on using locally-sourced, seasonal ingredients like farmers' market vegetables and sustainable fish, every dish is just as beautiful as it tastes.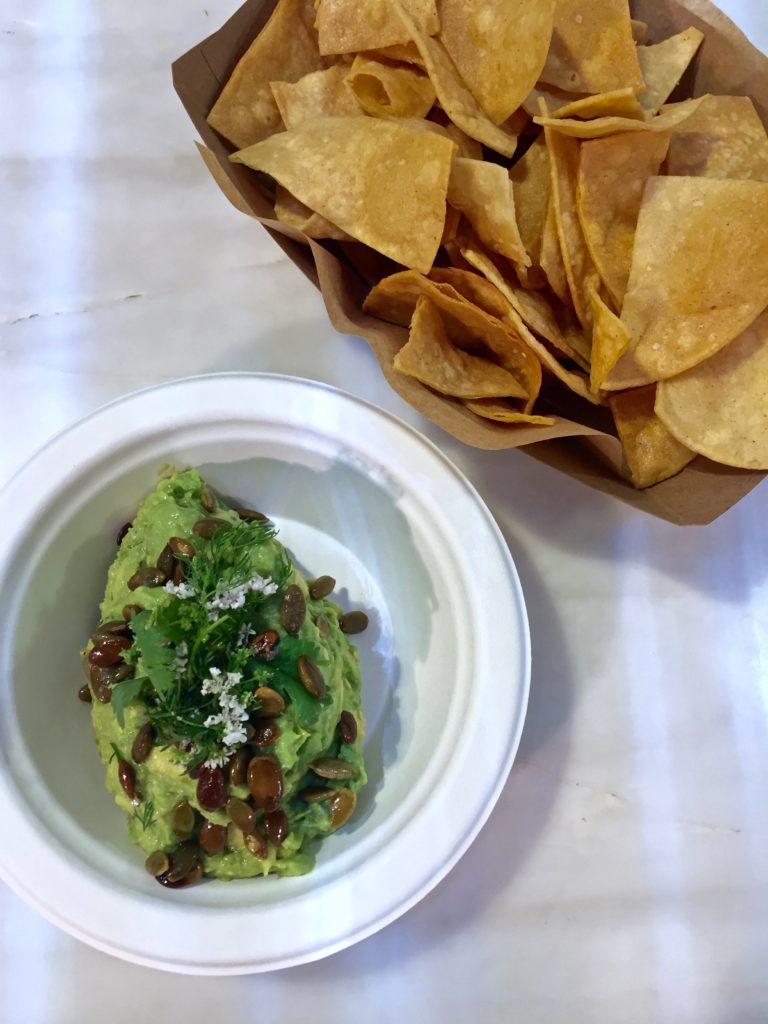 While I've tried a good portion of the menu and know just how delicious everything is, I can't help but routinely order my favorites. Nick and I always get an order of the guacamole, which is salty, creamy and perfectly addictive. It's topped with Serrano chiles, cilantro, onions, and toasted pepitas. 
Tacos & Quesadillas
A few other staples for us are the Quesadilla De Mercado and Norteño Taco. The vegetarian quesadilla, served open face "taco style" on a blue corn tortilla, is packed with seasonal veggies, seared panela and melty Oaxaca cheese. The latest version has broccolini and sweet bits of corn, with a crunchy almond arból salsa.
On the other hand, the Norteño brings a hearty, meat-driven flavor profile. Every bite is satisfyingly rich, with the char of the grilled skirt steak and creaminess of the guacamole melding perfectly with the melted cheese and smoky beans. I know more than a few people who order this manly taco weekly… one of them being my husband. He seriously craves it.
Speaking of cravings… when I'm itching for a taco that's entirely different, I go for the Coliflor taco (a special) packed with tempura fried cauliflower, dates and almond arból salsa. It's a vegetarian dream taco.
Ceviche
Okay, so as much as I love the tacos, Corazón Cocina first made a name for itself with their ceviche. The beautifully presented Sal De Mar Ceviche is an Instagram foodie's dream. It's made with local yellowtail, watermelon, avocado, fresno chile, pomegranate and hibiscus aguachile and is almost too pretty to eat. 
With just the faintest hint of spice, it tastes super fresh and every bite brings a different burst of flavor.  There's also a ceviche with tangerines, tomatillos and avocado, as well as one with shrimp, mango and habanero aioli. Yum.
To sum it up, Corazón Cocina delivers with fresh ceviche, delectable tacos and inventive specials that highlight the fresh flavors of regional Mexico. It doesn't matter that everything is served on cafeteria trays in disposable bowls and plates – all the more reason to focus on the food. Don't be surprised if you run into me there getting my weekly taco fix!
**Corazón Cocina**
Open: Daily, 11-9pm
Location: Inside the SB Public Market: 38 W Victoria St – Santa Barbara, CA 93101
Phone: 805.845.0282
To read my feature article on Corazón Cocina in SB Life & Style Magazine, click here.