Now that summer is fading away, I find myself looking for good summer wines that can easily transfer into Fall and the holiday season. (Side note: it is finally starting to feel a little bit like Fall here in Southern California!) Take rosé for example… it's a perfect wine for warm summer days, but it's also incredibly food friendly and versatile. Serve it with charcuterie and cheese, with roasted chicken and vegetables, and even Thai food!
Prosecco, on the other hand, is synonymous with summer. The Italian light-bodied sparkling wine, made from the Glera grape in the Veneto region of Northeast Italy, isn't usually a wine that people reach for when the days cool off. I too am guilty of drinking Prosecco only during summer; usually it's a bit too fruity and light for winter. Plus, there are a lot of mediocre examples out there so it's easy to reach for the familiar.
Luckily, a friend tipped me off to a Prosecco that I think will be great for any time of year. It's a perfect party wine — in fact, I even served it at my own wedding — and I think it'll be a great option for your next dinner party: Sorelle Bronca Prosecco DOCG ($18). This is a fresh and clean sparkling wine made from organic grapes grown on steep hillsides in Northern Italy. The small estate is owned and operated by Antonella and Ersiliana Bronca, the sisters ('Sorelle') Bronca, and the wine certainly showcases the quality of the vineyards and grapes. Check out the gorgeous location of these vines: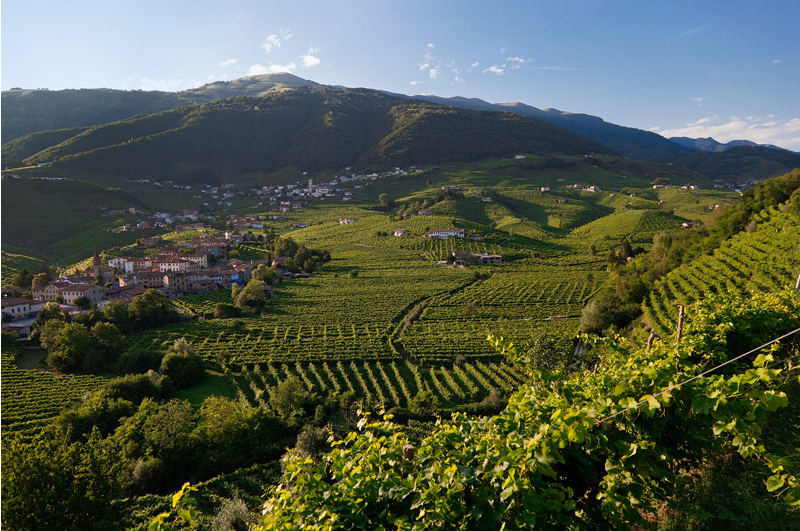 photo from the Sorelle Bronca website
Perfectly balanced (not too sweet and not too dry) with tart acidity and notes of pear, citrus and toasted nuts, the Sorelle Bronca Prosecco is a lighter alternative to Champagne (and much cheaper!) and is a perfect aperitif for a dinner party. Don't feel like entertaining? Pop this bad boy while reading a book in front of a fire or while enjoying a night in with Chinese takeout. I'm serious! It's that versatile.
Let me just clarify that Prosecco is different from Champagne. If you're used to Brut Champagne, for example, then this may seem more fruit-forward with lighter, almost frothier bubbles. Why? First off, they are produced from different grapes in different regions (Champagne is a cooler region). Secondly, they are made in different methods (aged in large tanks for Prosecco vs. aged in bottle for Champagne). Most Proseccos have a touch of sweetness to balance out the acidity and tend to be very low in alcohol (this one is 11%). If you're curious what a good Prosecco should taste like, give this one a try and you'll be transported to carefree summer days regardless of the time of year. Or, just add a splash of peach nectar and pretend you're sipping your bellini on a balcony overlooking the Venice canals. Cheers!