Well, I'm back from an amazing trip to Portugal and I can honestly say it was one of the best trips I've ever had! Portugal is, in a nutshell, an amazing place for wine, seafood, cheese, jam, history and scenery. And trust me, Nick and I certainly did our fair share of eating and drinking, walking and exploring, and eating and drinking some more!
Lisbon is Portugal's capital city and it's where we spent our first and last nights of the trip. It's a huge city, yes, but it's also historically compelling and picturesque. And, coincidentally, the city is very reminiscent of San Francisco with its many hills, cable cars and Golden Gate-like bridge, which is why I was excited to visit! Fun fact – the Golden Gate lookalike was actually designed by the same company that constructed SF's other bridge, the Oakland Bay Bridge. Despite the similarities to San Francisco, though, Lisbon's got its own flavor and charming European characteristics.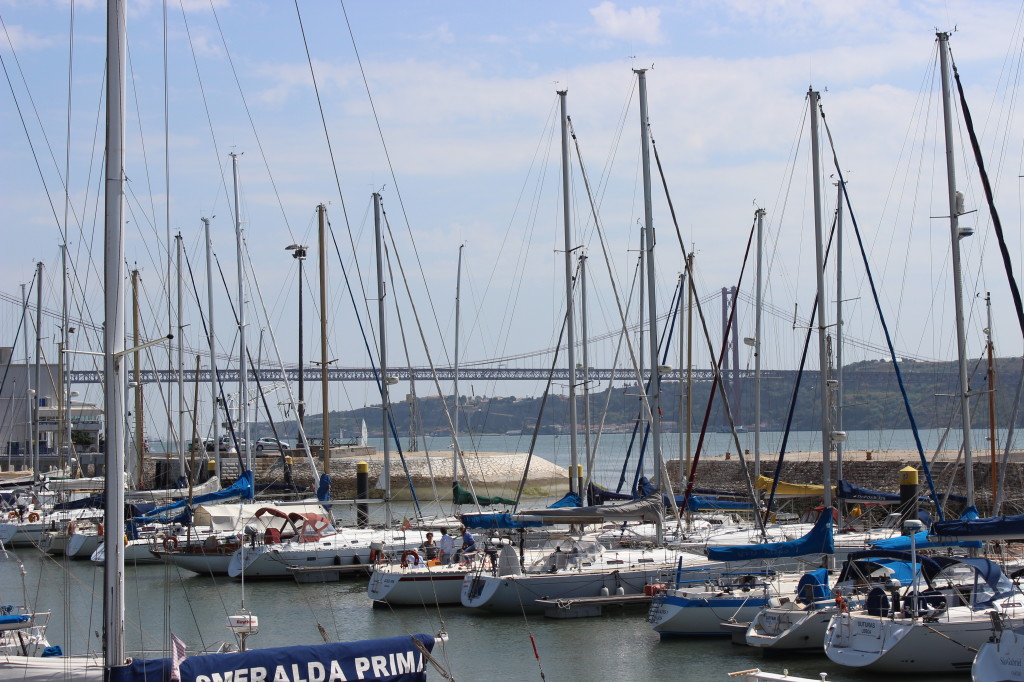 What to do if you have 3 days in Lisbon? You visit different neighborhoods, eat lots of tapas, drink Ginjinha with locals, listen to Fado, drink a lot of Portuguese wine, go out to happening bars, see some historical sites, walk up and down a lot of hills then take the Tram up said hills, eat custard tarts, get lost in a labyrinth of cobblestone alleys, drink more wine, and take in the amazing views!
We managed to do all of the above and then some. Success! The first night we stayed in a hotel, but after walking around Lisbon's oldest neighborhood, the Alfama, we decided to rent an apartment there for our last 2 nights because it's so charming. Think narrow cobblestone streets lined with multi-colored buildings, laundry lines strung between wrought iron balconies, hanging bird cages, tiny hole-in-the-wall cafés and Fado bars. It's really a step back in time! FYI – the Alfama survived the devastating 1755 earthquake which is why it's so unique, and also slightly dilapidated. When in this neighborhood, hopping on Tram 28 is the touristy 'thing to do' and a great way to see some of the churches and squares in this hilly neighborhood (be sure to get a window seat!). It's €6 to get a 24-hour pass and you can hop on and off.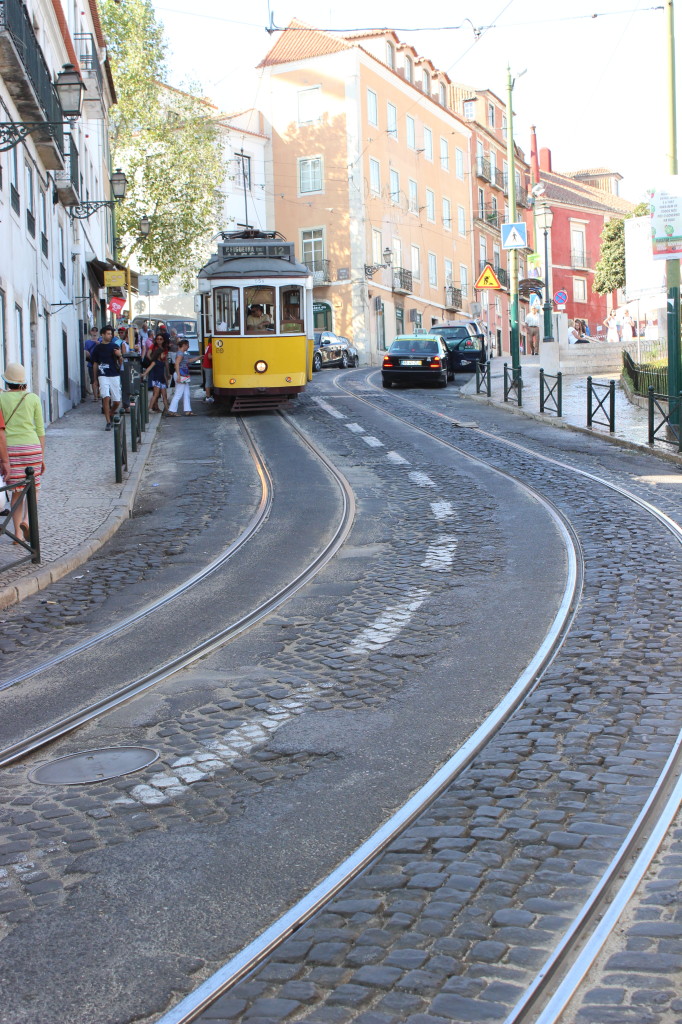 The first day we arrived, we visited the Moorish Castle, the Castelo de São Jorge, located at the top of the Alfama. This castle dates back to the mid-11th Century when the Moors ruled Lisbon. Even if you're not in to historical sites, it's worth a stop just for the amazing views of the city. Photo op!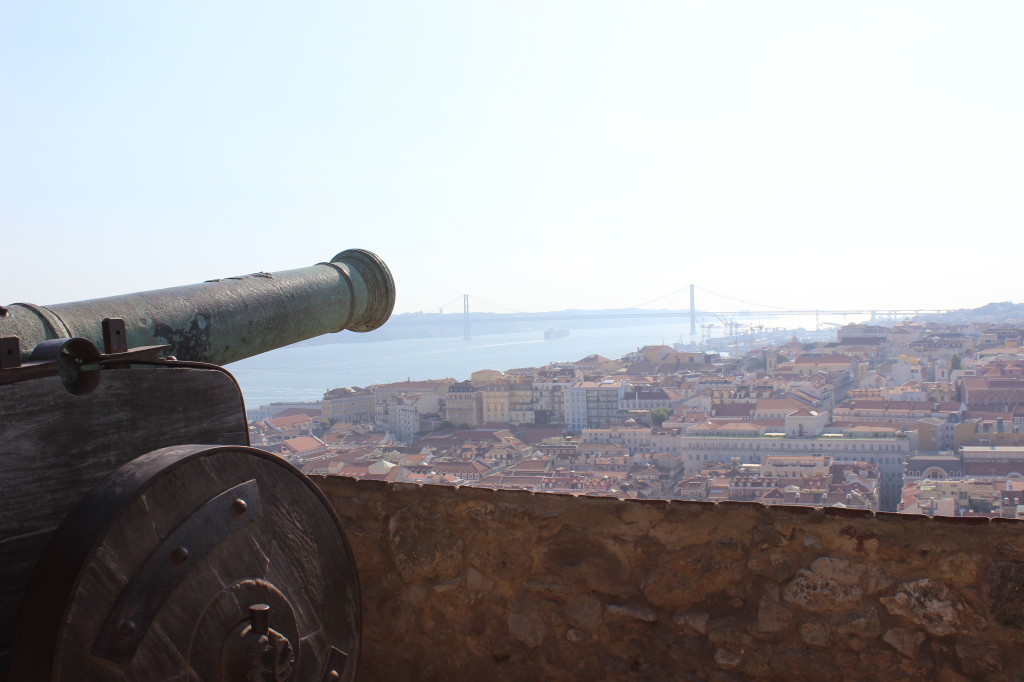 After taking far too many pictures, we decided to roam around and happened to stumble upon a wine bar down the street (or rather, around a corner and down a twisting cobblestone street). Wine Bar Do Castelo didn't look like much from the outside, but inside it was cozy, welcoming, and people seemed to be really enjoying themselves. Wine and tapas = the perfect cure for jet lag!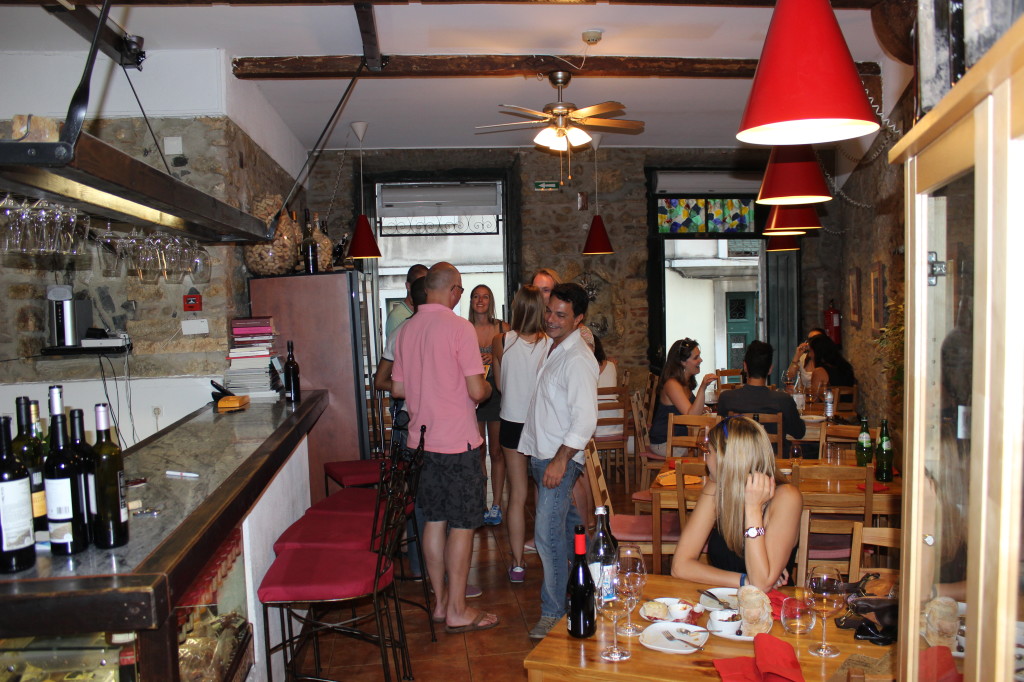 We really felt like we found a secret gem, but then I opened up my guidebook and found it listed as a place to go. And then I realized all 5 tables were taken by tourists. Hehe. Regardless, it is an awesome pit-stop (and by pit-stop I mean 2 hour detour). They serve 150 Portuguese wines and are more than willing to help you find something you love and provide insight into the different wine regions of Portugal. Trust me, this place is fun, the wines are plentiful, and the food is great too!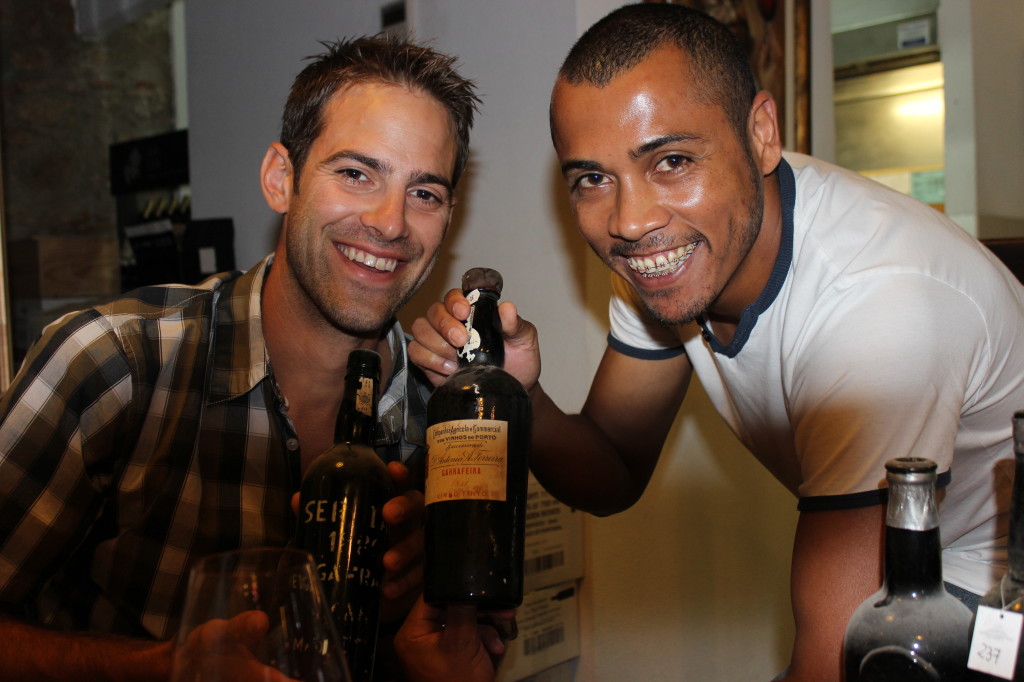 Making friends…
Word of advice… order the mixed cheese and meat plate. It's unreal! Márcio and Alex, our Brazilian servers, were super helpful and even treated us to a few sips of 100 year old aged tawny port. I could have died and gone to heaven!!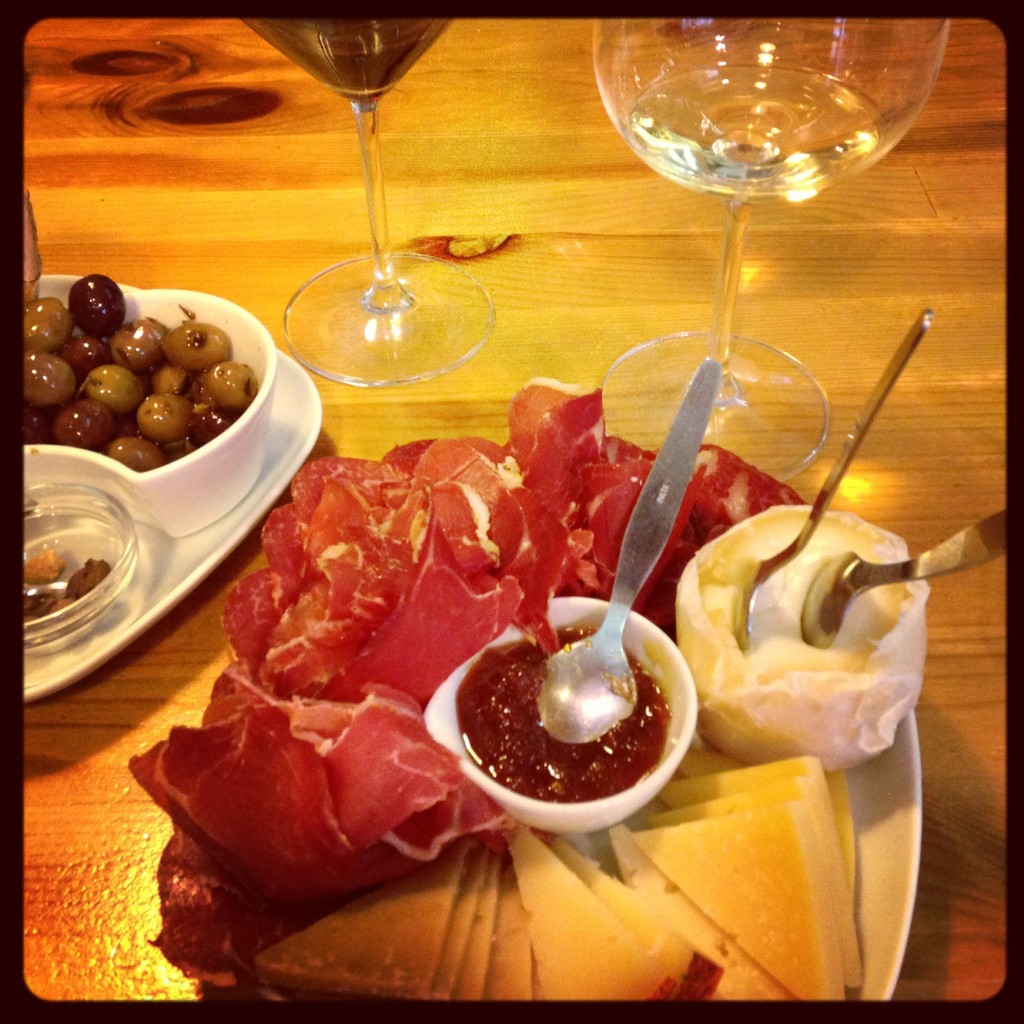 Just look at the dust on those old bottles of Tawny…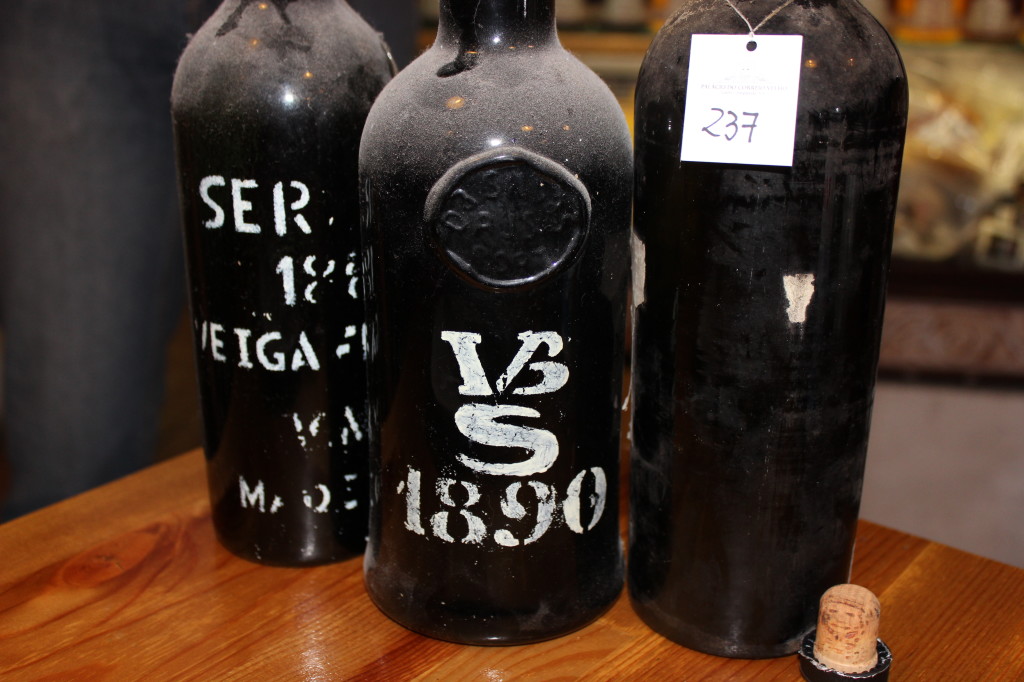 Next stop: the main square at the base of the city, Praça de Comércio. It's located at the base of the Baixa neighborhood, Lisbon's downtown. There are a few monuments in this large plaza, but the best part is just standing in the middle taking it all in. Hello, Lisbon! (Tip: It's best to visit at dusk when the monuments are lit up).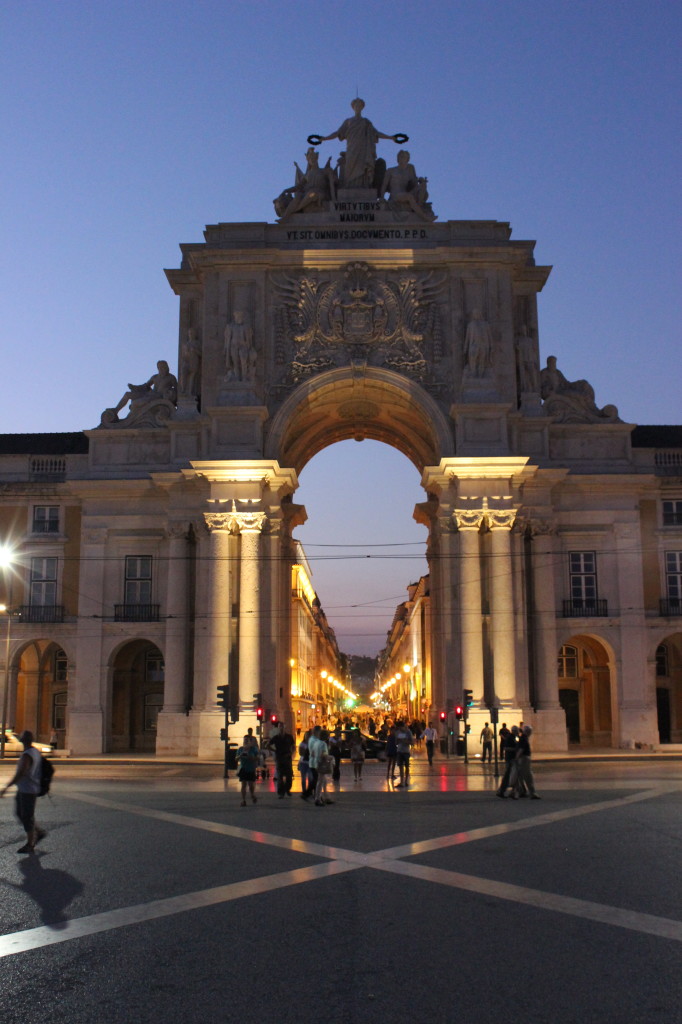 The Arco da Vitória, across the street, is a grandiose triumphal arch that acts as an entryway to the main street of the Baixa. We didn't care much for the Baixa because of all the touristy restaurants, and because we were accosted every other step (to eat in their restaurants or buy illegal things!), but the side alleys dotted with outdoor cafés were enticing. (If you can get to this street in the early morning, though, it's pretty awesome when no one is around). What's cool about this neighborhood, however, is that it houses the city's best places for Ginjinha! What is that, do you say? Ginjinha (pronounced Zheen Zheen Yah) is a unique liqueur made from sour cherries, brandy, cinnamon and sugar. It's worth a try… but beware, it's strong stuff (especially when served with the alcohol-infused cherries)! Old men, young hipsters, and tourists alike all gather to drink it out of tiny cups outside of pint-sized Ginjinha bars. It's the thing to do, really. We tried it a couple of times, but enjoyed A Ginjinha and Ginjinha sem Rival the most (the latter is one of the few places that still produces their own ginjinha). 
Max 3 people at a time, Nick. He's really excited for some ginjinha…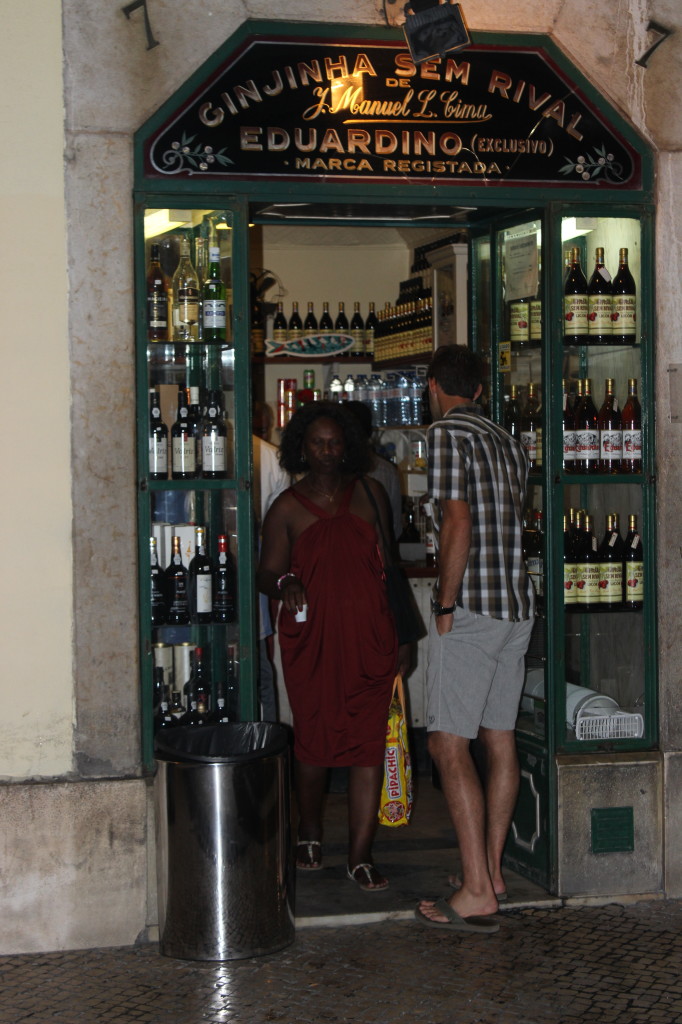 Days two and three were spent visiting some museums (I was an Art History major after all), seeing historical sites, and exploring more of the city. Don't worry, we certainly made time for plenty of eating and drinking, too. We really enjoyed the Gulbenkian Museum, comprised of the eclectic collection of an Armenian oil czar, Calouste Gulbenkian. There are Turkish tiles, 16th-17th Century European sculptures and paintings, Parisian furniture, Persian carpets, Asian art, ancient coins and more… it's quite the collection and kind of amazing to think it all belonged to one man.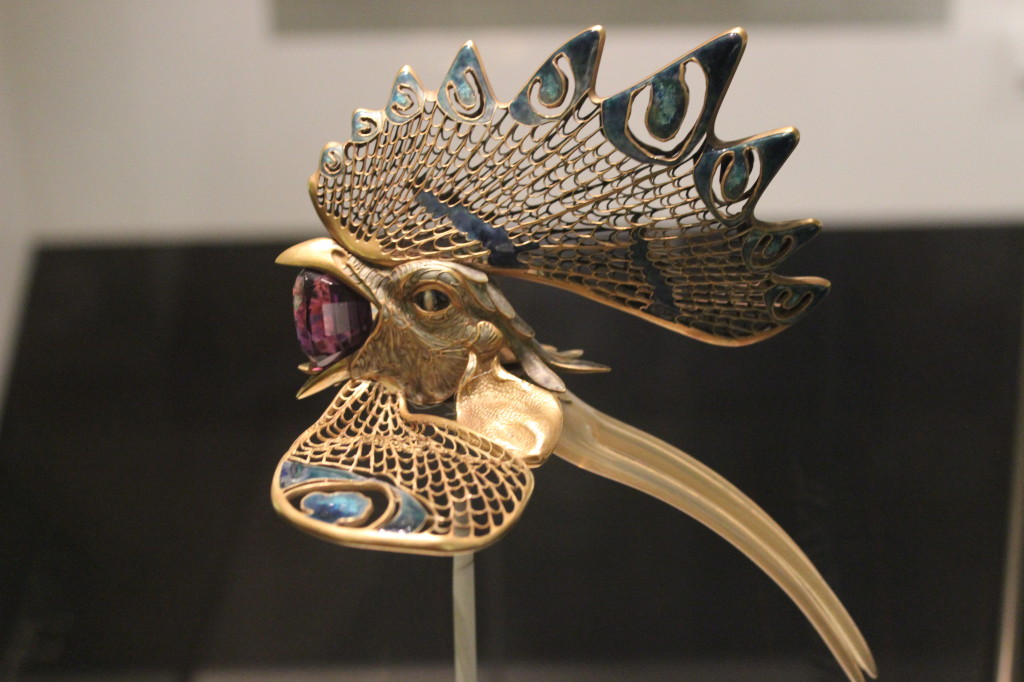 We spent our evening in the Bairro Alto neighborhood, also known as the bohemian heart and nightlife mecca of Lisbon. During the day there isn't a lot of action, but at night the narrow streets come alive and are filled with people walking around, eating al fresco and doing a good amount of bar hopping. It's home to some of Lisbon's best restaurants, including a few that I wanted to try but we didn't get a reservation in time, like Pharmacia and 100 Maneiras. We ended up getting tapas at Grapes & Bites, a lively wine bar with acoustic live music and wine barrel tables. The food we tasted was so-so (although the cheese plate did look amazing), but the wine list was long and the atmosphere made it. It's actually the perfect starting point for going out in the neighborhood – nearby there are several bars with DJs or live music and lots of action. People were spilling out into the street and we could tell at 11:30pm it was just getting started!
On our last day in Portugal, we hopped on Tram 15 to the Belém area – definitely the most monumental area of Lisbon. There are several things worth seeing and doing in this area, including a visit to the Belém Tower (Torre de Belem), a fortress that was the starting point for many voyages of discovery and also a UNESCO World Heritage monument.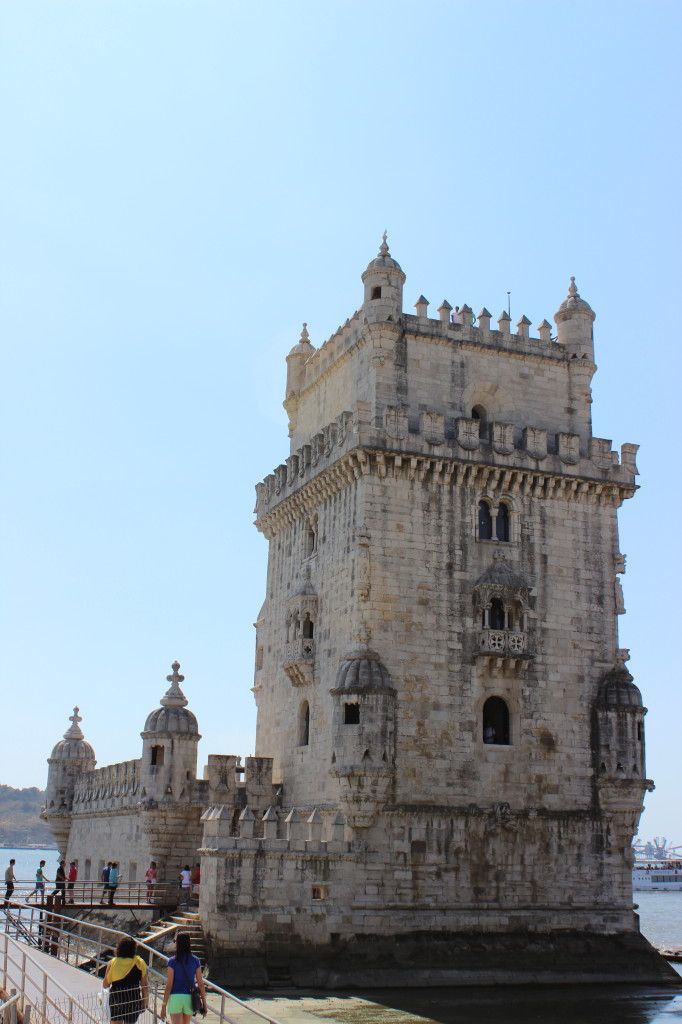 The Mosteiro dos Jerónimos, also a UNESCO World Heritage site, is a neat building to see, especially from the 52-meter high Padrão dos Descobrimentos monument. This monument, a tribute to the Age of Discovery and its famous explorers, has awesome 360 degree views of the water and city (and even a cool view looking down straight below).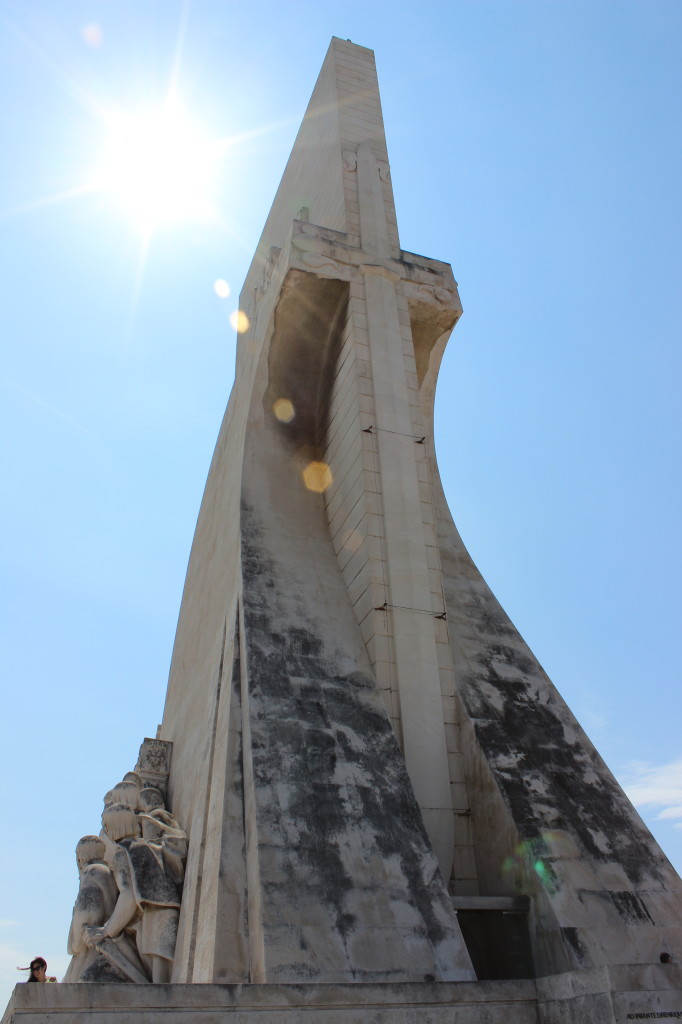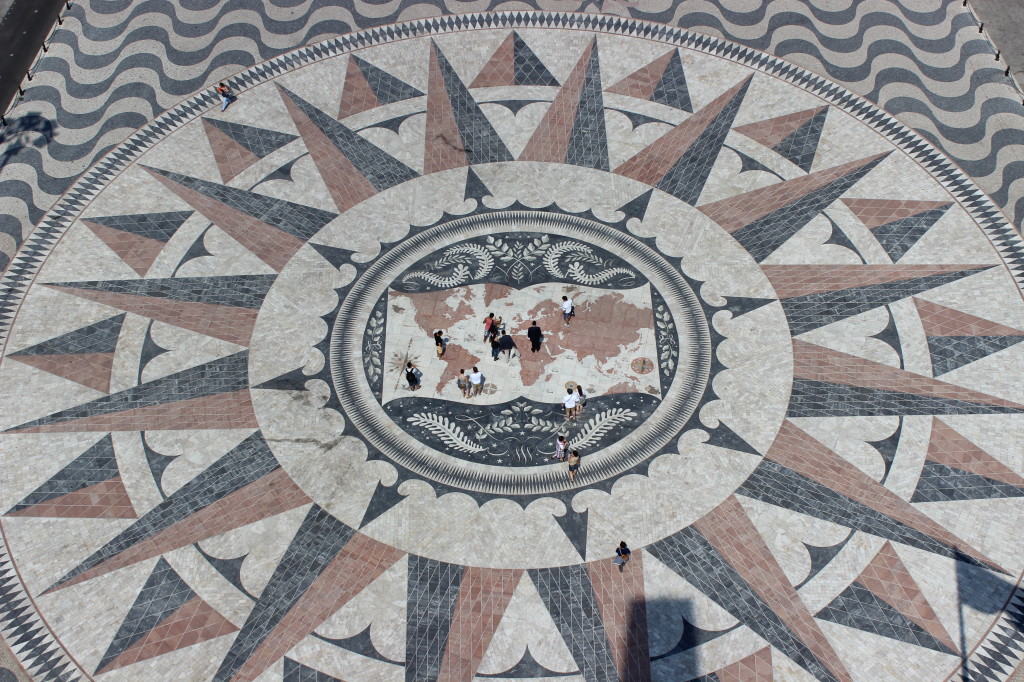 After all the sight seeing, one must stop for a refresher, right? Bar 38° 41′ is a chic place to sit outside, have a drink and enjoy the views of the River Tejo. A must do activity while in Belém, though, is to make a stop at Pasteis de Belém for the city's most famous custard tarts. You can't miss the blue awnings and the line spilling out the door. To get faster service, head inside and grab a table and enjoy your perfectly-cooked, slightly warm custard tart. This place has been cranking them out since 1837 and the recipe, which is super duper top secret, apparently hasn't changed since! They're legit. Nick and I also got a savory pastry that tasted like the most amazing chicken pot pie we've ever had. I might still be dreaming about it!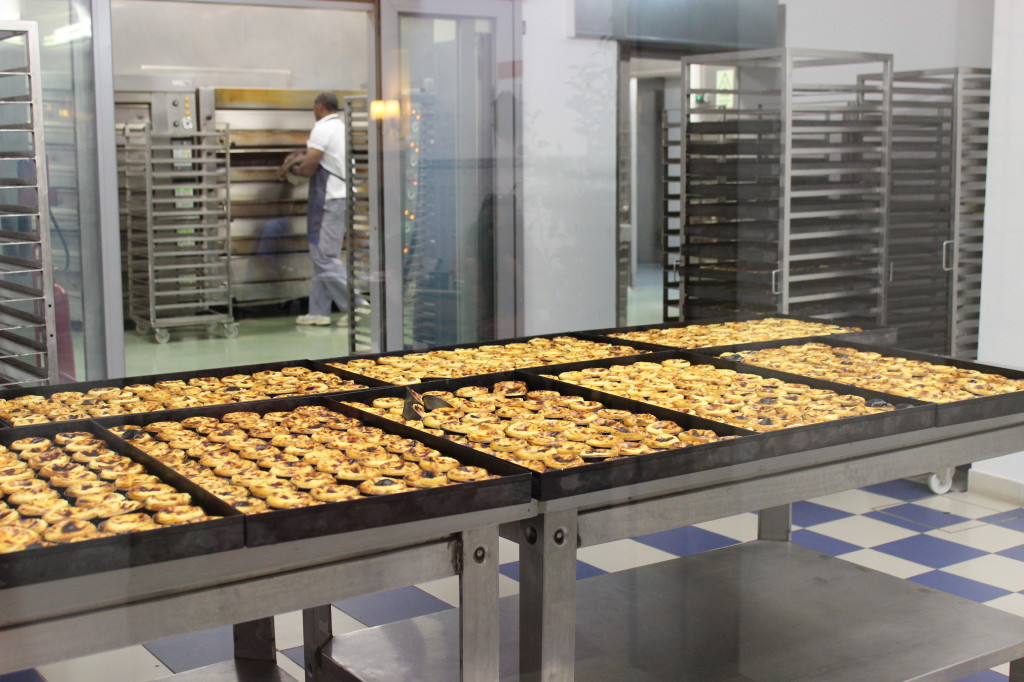 They pump out 15,000 of these a day!
On our final night, we took in the view of Lisbon from the Sky Bar at the Tivoli hotel (awesome terrace), then went to a nice dinner at Casa de Comida (really interesting décor, great food). The cauliflower soup and mushroom "frenzy" appetizer were both excellent.  After dessert and some Port, we ventured back to our neighborhood to catch the tail end of a Fado performance at a tucked away bar. (FYI – Fado is a melancholy Portuguese type of singing… very serious and emotional). All in all, it was a great 3 days in Lisbon and I think we almost managed to do it all!
I'll follow up with a full report on the rest of Portugal later this week. Until then, Saúde!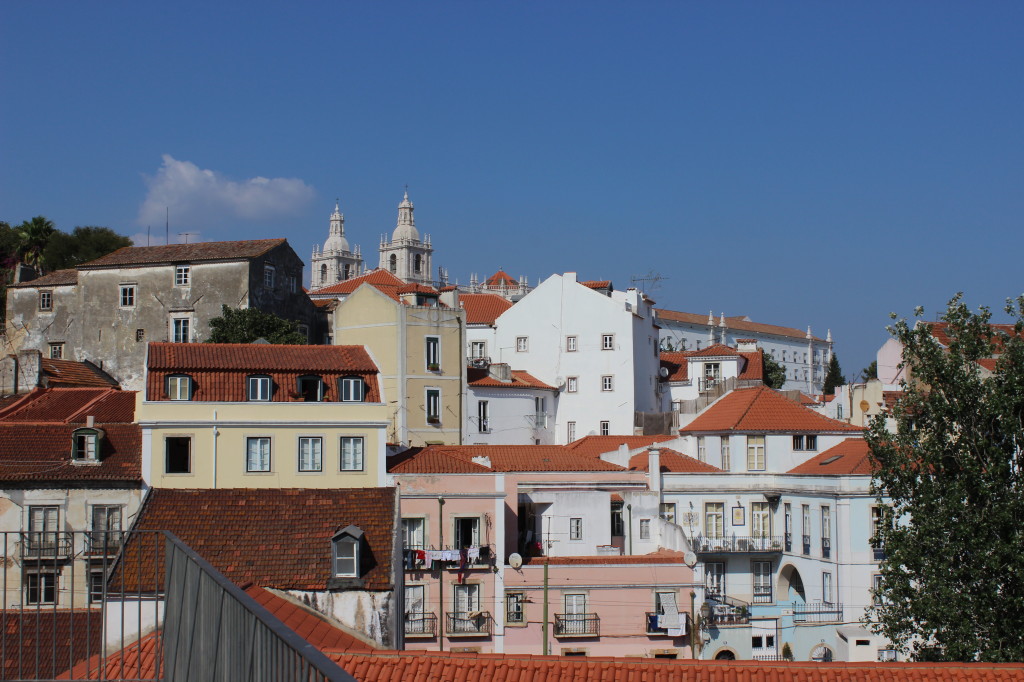 Hobbit door, aka the door to our apartment.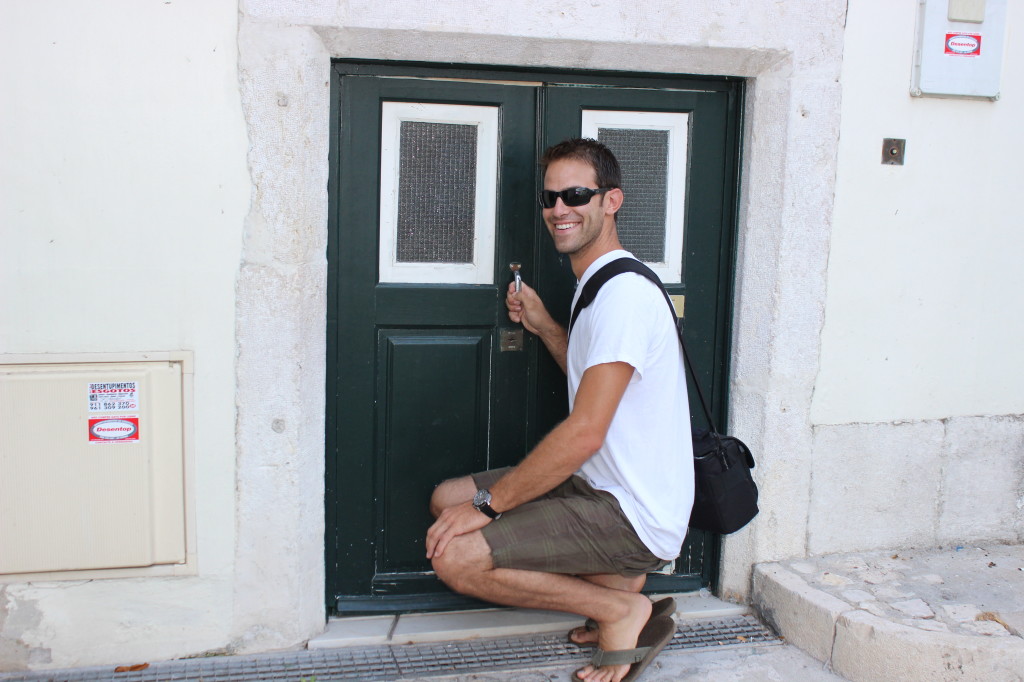 Oh look! Another hill…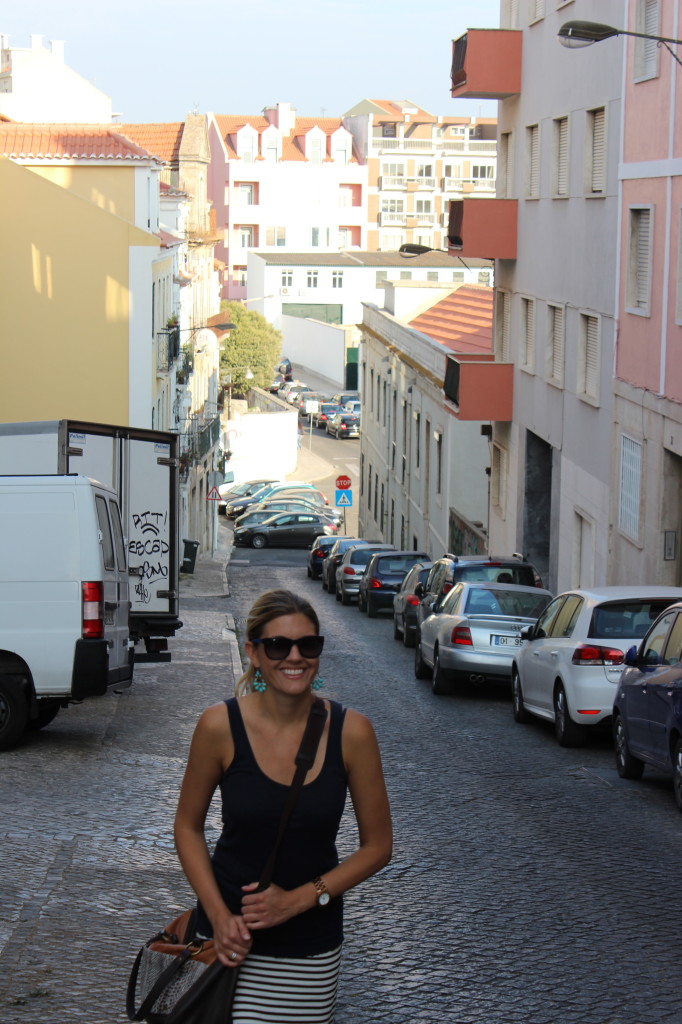 Blood sausage! Tastes better than it sounds…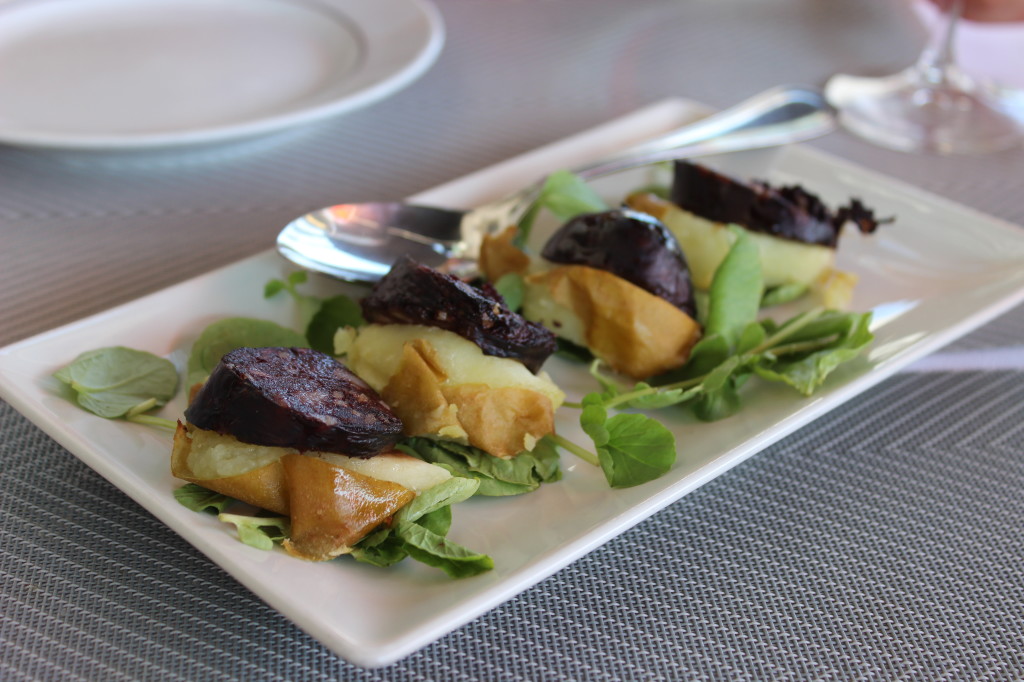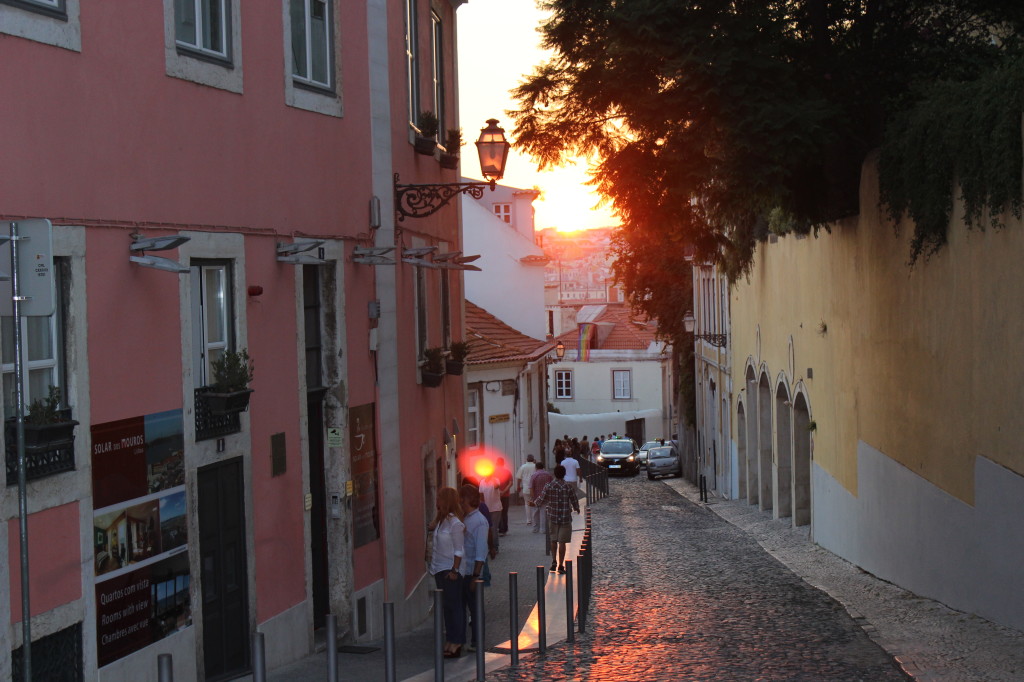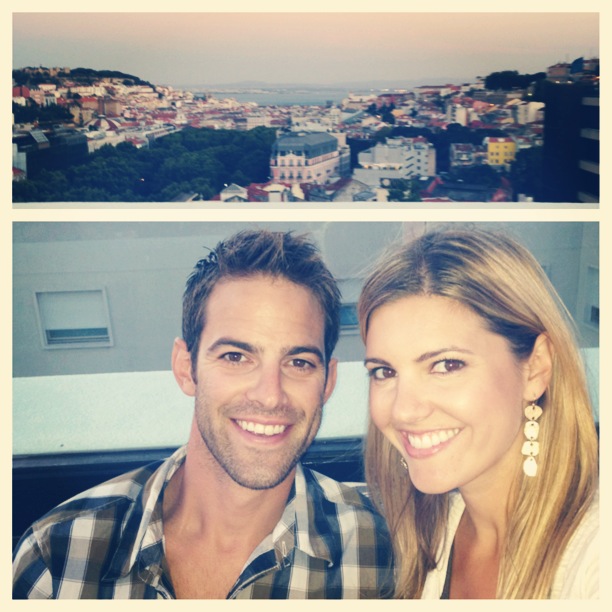 Don't stop! There's more… Read about my time in Porto, the Douro Valley, Sintra and Évora!