The holiday season is upon us, which means the internet is full of gift guides galore. Sure, Amazon gets plenty of my business this time of year, but it's much more rewarding to support the small guys. While small businesses rely on us this time of year, the disruption the Thomas Fire has put on our entire Santa Barbara community has been palpable. Now more than ever, Santa Barbara businesses need our support! So, check out my Santa Barbara Holiday Gift Guide, featuring local and regional gifts for the food and wine lovers on your list!
Santa Barbara Holiday Gift Guide for Food and Wine Lovers
Chocolates from Jessica Foster Confections
You can't go wrong with the gift of chocolate, especially when said chocolate is made by Jessica Foster! Her handmade truffles are definitely some of the best around. With flavors like Chocolate Chai, Dark Chocolate Rosemary, White Chocolate Passion Fruit and Sea Salt & Pepper, you can't go wrong. If you really want to impress, check out the JFC Gift Crates. They include assorted truffles, sea salt caramels, herbed marcona almond brittle and a cute little succulent to top it off. I know what I'm asking for this Christmas! Jessica Foster Confections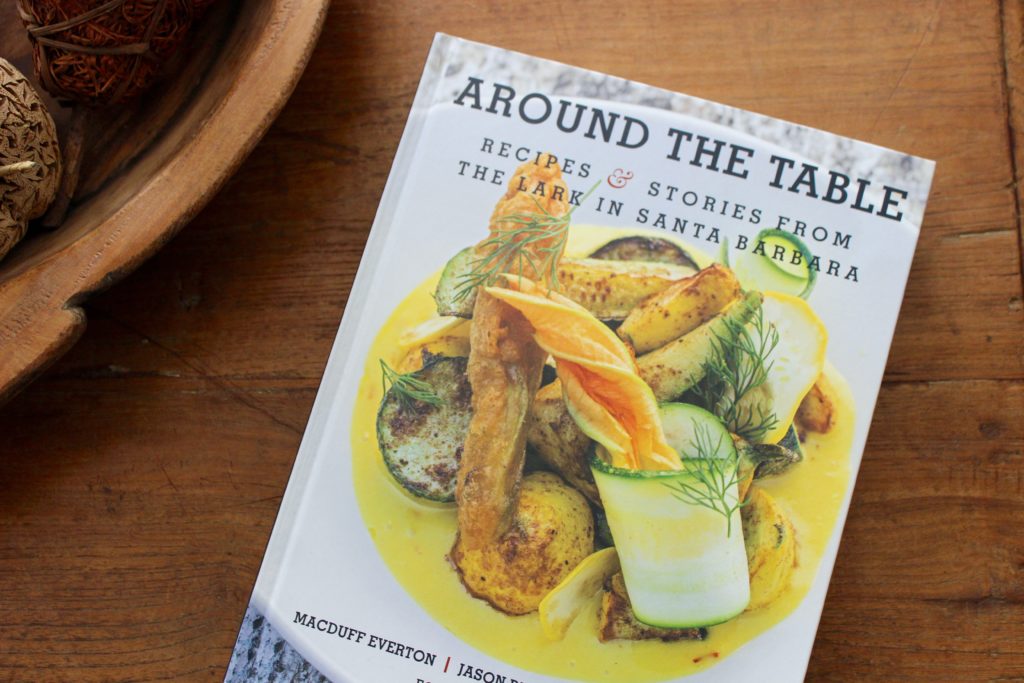 Around the Table: Recipes & Stories from The Lark in Santa Barbara
If you've visited Santa Barbara in recent years, you've likely eaten at The Lark in the Funk Zone. It's a popular spot, and for good reason! The food is local, seasonal, family-style and tasty. Now you can recreate the food at home with The Lark's newly released cookbook. Chock full of recipes 'from the farm,' 'from the ocean,' and 'from the ranch' — all of which celebrate the bounty of Santa Barbara — this book will have you looking for an excuse to gather around the table, as the name suggests. You'll also find local wine pairings accompanying each recipe, alternative pairings and cocktail recipes. Profiles on legendary Santa Barbara winemakers and other interesting anecdotes make this an impressive coffee table as much as it is a cookbook. It's definitely the perfect gift for the foodie, aspiring chef or Santa Barbara-lover on your list! The Lark // 131 Anacapa St. Santa Barbara
PICO Los Alamos' Housemade Goods
I love the vibe and the food at this Los Alamos staple, where you'll find delicious, wine-friendly comfort food. The entire concept is very locally-minded, using fresh and local meat and veggies, and a lot of the ingredients are prepared in-house by Executive Chef Drew Terp. The cool part? You can take some of his creations to go, like smoked sea salt, house-infused olive oils, homemade jams and hot sauce. These make awesome hostess gifts and are great for anyone who spends time in the kitchen. PS – When you pick these up, please do me a favor and take some of the housemade ice cream home with you. The Caramel and Espresso are not to be missed! PICO Los Alamos // 458 Bell St. Los Alamos
Goods from Private Chef Robin
Robin Goldstein is a private chef who also has her own line of salts, spices and cookbooks. Her latest cookbook, Simply Delicious Wine Country Recipes, is filled with recipes that are perfect for pairing with my favorite beverage. Inspired by the wine country around us, you'll find seasonal recipes for appetizers, mains and desserts — even a whole section on cheese! — incorporating white wine, red wine and whole grapes. If you have a friend who lives by that famous Julia Child quote, "I enjoy cooking with wine, sometimes I even put it in the food," then this cookbook is for them. Her signature salt and spice blends are also great for upping your Popcorn or Avocado Toast game! Private Chef Robin 
The Gift of Bubbles!
When it doubt, give the gift of wine. Even more festive for the holiday season is the gift of bubbles. While I don't have a favorite, there are quite a few producers making some great Santa Barbara County sparkling wine for every taste and budget. Riverbench Winery has been crafting several different styles of bubbly since 2008, including Blanc de Blancs, Brut Rosé and Demi Sec. You can find other delicious sparkling wines from Potek Winery, Fess Parker, The Hilt… the list goes on. I'm also totally into Kunin Wines' Sparkling Chenin, if you can get your hands on it!!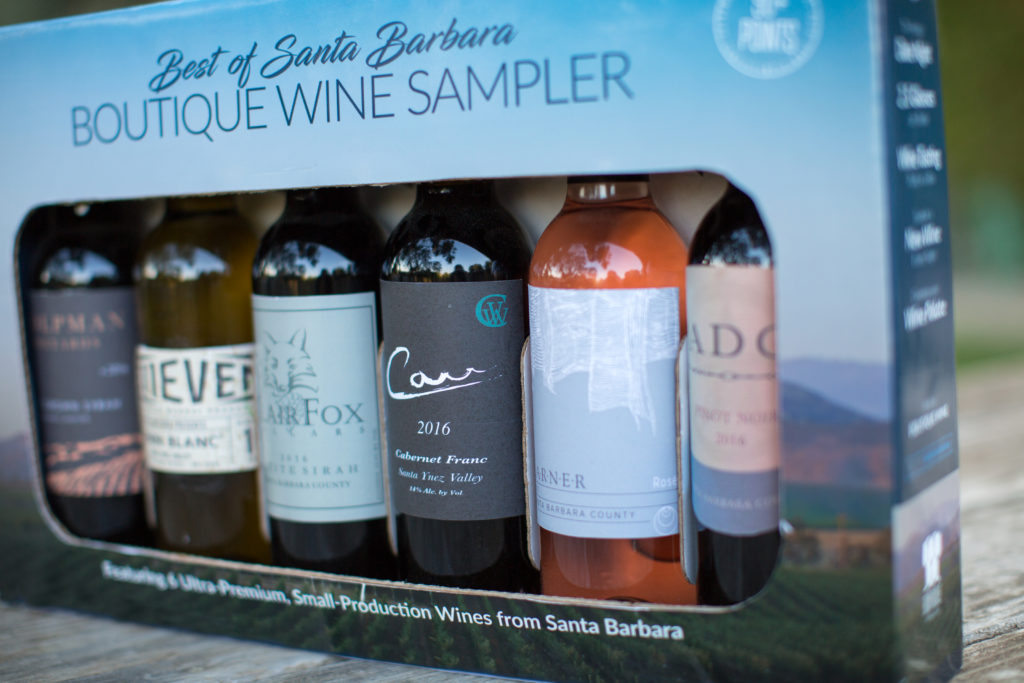 Santa Barbara Wine Sampler Box
Featuring a collection of six 375ml bottles of Santa Barbara County wines, this Boutique Wine Sampler includes wine from Stolpman, Larner, Blair Fox Cellars, Carr Winery, Andrew Murray and D'Alfonso-Curran. Though it's just a small sampling of wines from the region, it's a fun way to give a little slice of Santa Barbara wine country to loved ones. This box can be found at Northern and Southern California Costco stores, El Rancho Market and California Fresh Markets for a limited time. Boutique Wine Club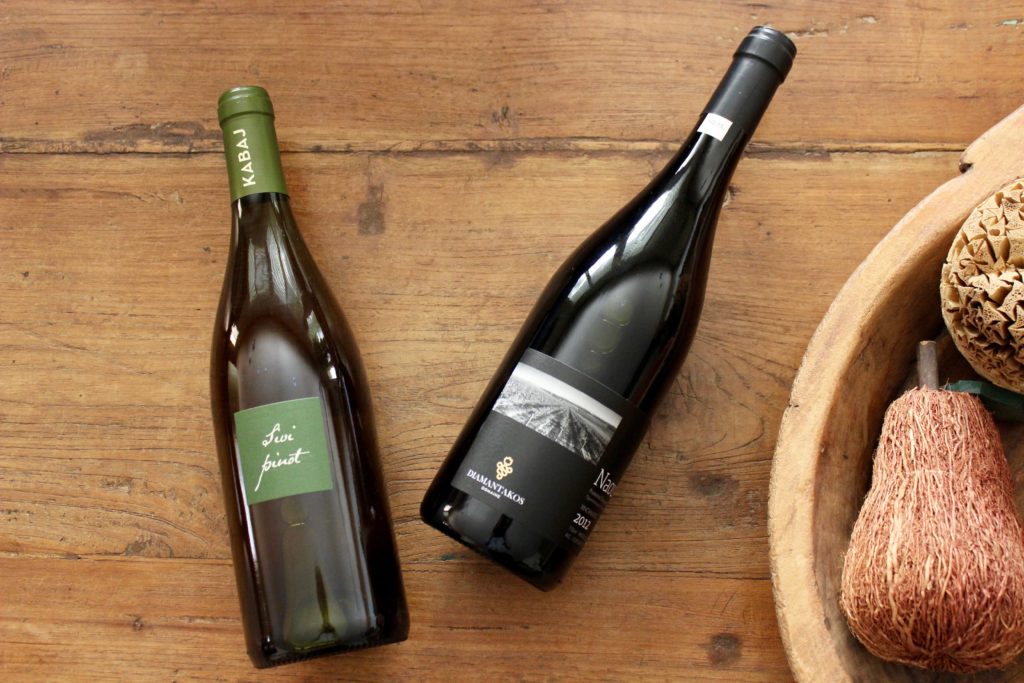 Les Marchands' Outliers Wine Club
While I'm a huge supporter of Santa Barbara-made wine, there's something fun about exploring the more unknown sides of the wine world. Now Les Marchands has your answer with the newly launched Outliers Club! Each month, this specialty club includes two interesting bottles of wine picked by Les Marchands' Jeremy Bohrer, featuring obscure varieties and/or wines from lesser known regions. You'll get details on the wines as well as information on the regions, so you can learn something new while you sip. It's certainly a cool gift for the oenophile / wine geek on your list! Les Marchands // 131 Anacapa St. Ste B – Santa Barbara, CA 
Anything by Make Smith Leather Co.
No, this isn't technically a wine or food-related gift, but Make Smith Leather Co. products are cool and everyone loves them. This SB business is family-owned and operated, run by third generation leather crafts-people. From leather wallets and purses to coasters and journals, these locally-made and beautifully crafted goods are sure to impress. Make Smith Leather Co. // 135 E. De La Guerra – Santa Barbara, CA 
—
There you have it! My Santa Barbara Holiday Gift Guide for Food and Wine Lovers. Thanks for supporting our beloved community during this uncharacteristically 'un-merry' time due to the fires. Stay safe, Santa Barbara! 
Also, be sure to check out next month's new series, "Things I'm Coveting," where I feature the things I'm loving each season.