A lot of people ask me if oak aging really makes that much of a difference in wine. Well, if you've ever had a heavily oaked Chardonnay compared with an unoaked one, then you'll know how much of a difference it can really make.
So why use oak? Aging wine in oak barrels allows the wine to change and become more complex. Some types of grapes can't withstand oak, but many varietals do well with it, especially reds that are high in tannin. Oak aging allows the wine to improve in texture and complexity with time spent in the barrel.
If the oak is 'new', it can add aromas of vanilla, oak/wood, coconut and toast. The older the barrel is, the less of those nuances you will detect in the wine (side note: barrels are considered neutral after 4-6 years). French oak is considered more subtle and refined, while American is more powerful. The type used usually depends on how much oak the winemaker wants to impart, but can also depend on finances. French barrels can put you back around $1200-1300 per barrel. Ouch!
I recently got to try three samples of wine aged in different barrels from Basalt Cellars, a small winery in Idaho. Yes, Idaho makes wine! There are over 50 wineries in the state, believe it or not. And, seeing as though Nick and I are getting married in Idaho very soon, it's only fitting to talk about some Idaho wines, right? :)
Most of Idaho's wineries are clustered along the Snake River in the southwestern part of the state, but there are quite a few (like Basalt) along the Washington border near Lewiston (about 1 1/2 hours from Walla Walla). In fact, at one point in the late 1800s, this area was home to many vineyards, but with Prohibition, the booming wine industry came to a halt.
Nowadays, since wine has become such a big industry and part of our culture, Idaho has joined back in and is producing some award-winning wines. Since the weather is not always suitable for grape growing, though, many of the wineries source their grapes from the Columbia Valley AVA in Washington. Because of its location in a more flat and dry area, Basalt Cellars does grow grapes on their estate vineyard, but mostly sources grapes from central Washington.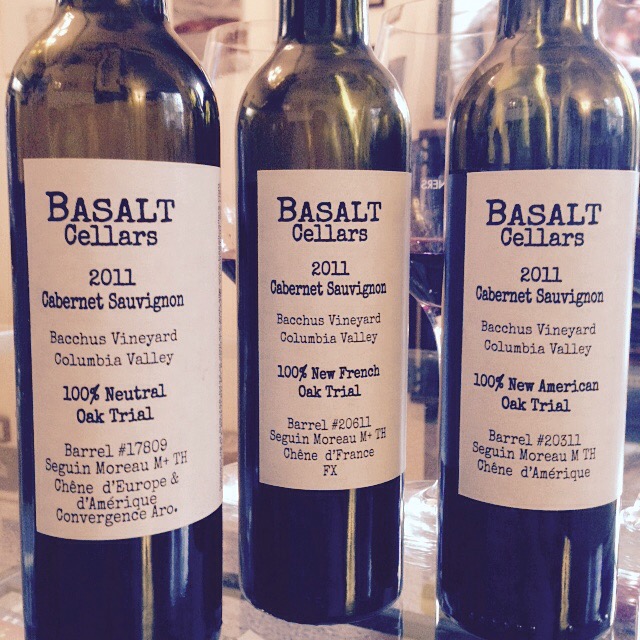 Started in 2004 by a husband and wife team, Basalt produces a little bit of everything, including Semillon, Malbec, Merlot, Syrah, Cabernet and even Lemberger (a red grape that's mostly grown in Germany but also does well in Washington). Although I didn't get to taste the Lemberger (next time!), I got to do my oak experiment with a trio of the 2011 Basalt Cellars Cabernet, from the Bacchus Vineyard in the Columbia Valley.
This trio consists of 3 wines all of the same varietal from the same vintage and same fermentation technique, but the only differences are that they were aged in three types of barrels: 100% new French, 100% new American and 100% neutral. The first, with neutral oak, has lots of black fruit and leathery flavors with slightly chalky tannins. Notice that there are no vanilla or oak nuances imparted from the barrel since it's neutral and the oak isn't strong enough to transfer those any longer.
The second, aged in 100% new French oak, has notes of cedar, coffee, baked fruit and aromatic spices, with a more complex mouthfeel than the first. This wine is my favorite – subtle oak nuances give it a very smooth texture that lingers in the mouth. Finally, the Cab aged in 100% new American oak. This wine has aromas of sweet vanilla and coconut (a sure sign of new American oak) with a black licorice and black fruit. It isn't as subtle and smooth as the french, but the tannins aren't as noticeable as the first.
Overall, this was a fun example of how different oak aging can change the smell and taste of wine. Is one type of oak aging better than the others? It really just depends on your preferences. Have you noticed if your favorite wines tend to be oaked or aged in stainless steel? Next time, try to pay attention to what your palate gravitates towards – you may surprise yourself!
You can read more about Basalt Cellars here and even buy the $55 oak trio to do this same test yourself! Cheers.