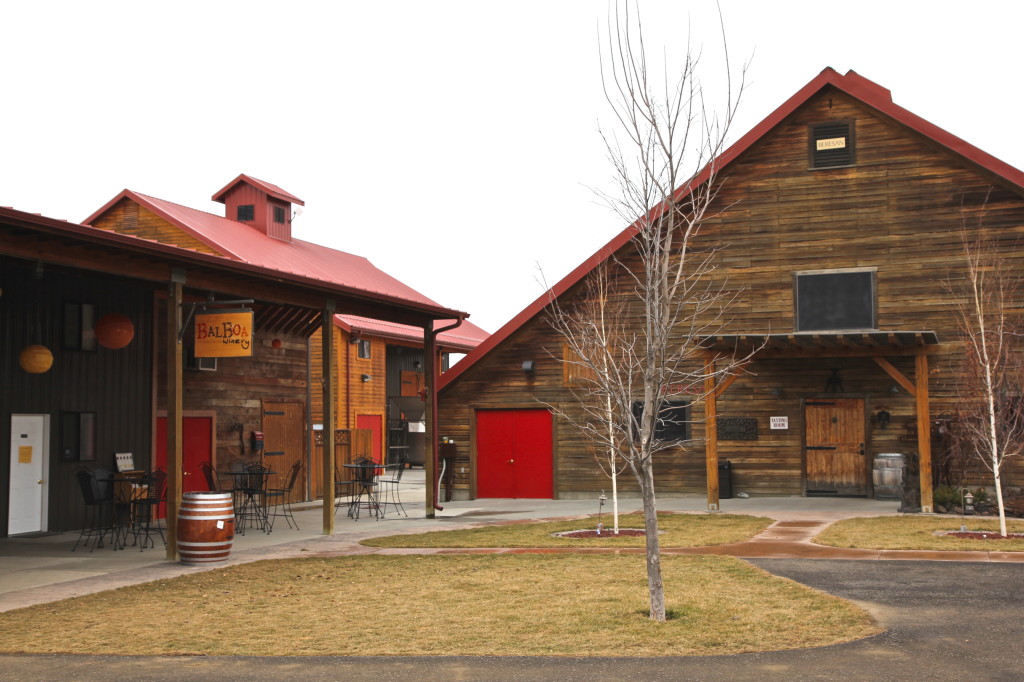 There are some wineries that you walk into and immediately feel like you're walking into a corporation, complete with sterile decor and plenty of snoot. Then, there are places that are warm, welcoming, and laid back… where it feels more like someone's home than a tasting room. Well, Balboa Winery in Walla Walla is the latter.
The winery was founded in 2005 by Tom and Amy Glase, a husband and wife team whose kids and dogs can be seen running around the winery helping out, too. The winery, which shares property with Beresan Winery next door (Tom is also the winemaker there), is in a rustic yet modern building at the base of Pepper Bridge Vineyard (you can't miss the bright red roof and doors!).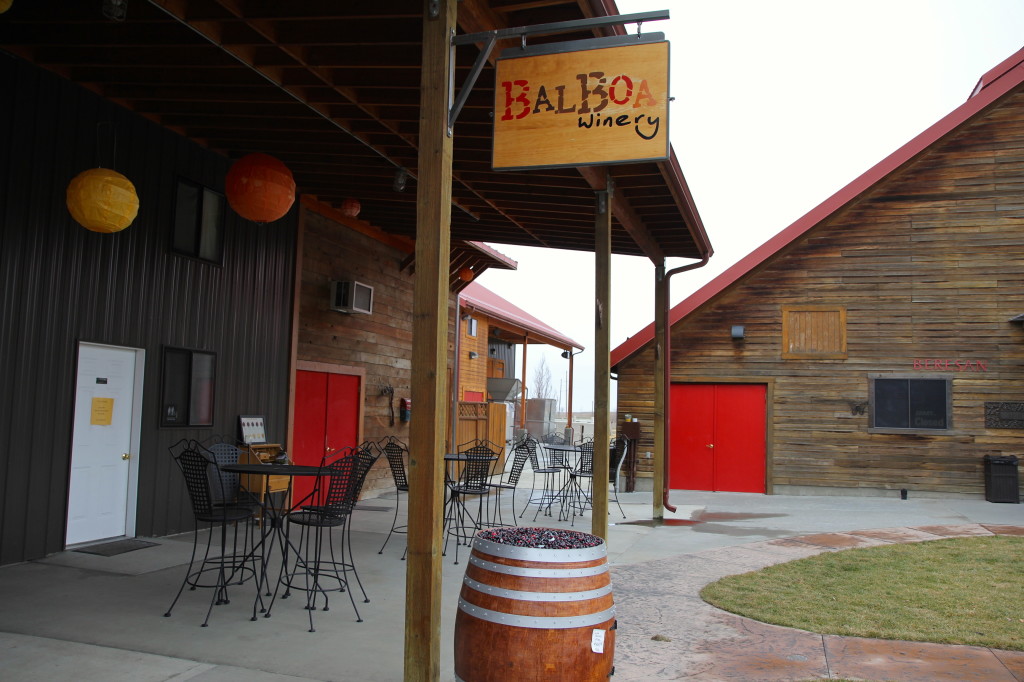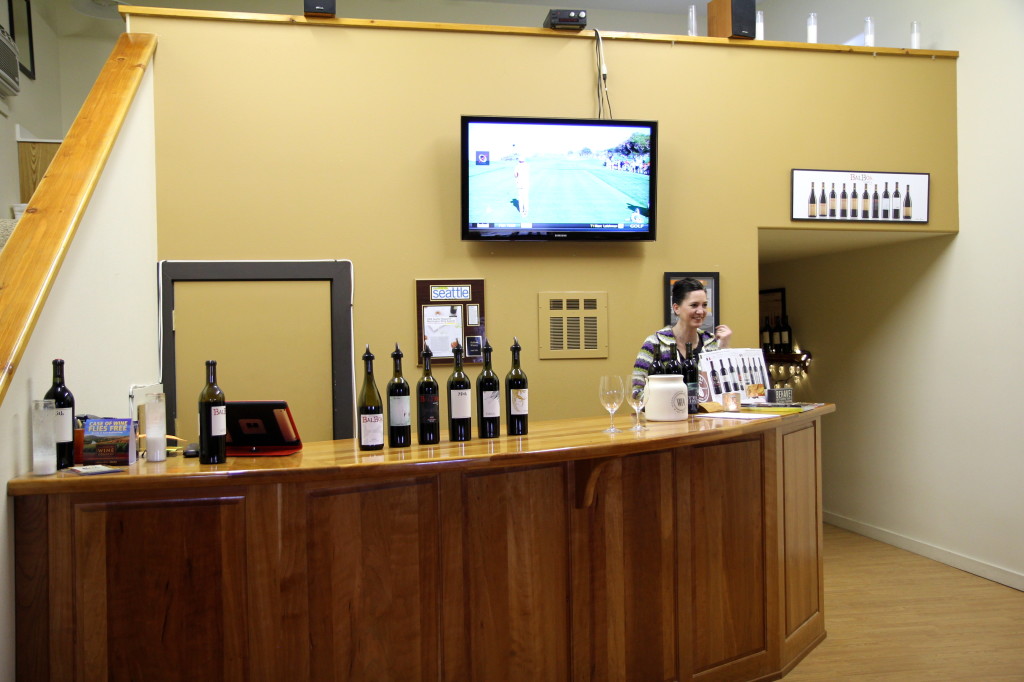 My friend Sarah and I stopped here during our awesome wine tasting weekend, otherwise known as the "I'm moving soon so let's go to Walla Walla to taste a lot of wine and eat amazing food last hurrah weekend." We were immediately greeted by two adorable dogs and the smell of brisket cooking as we entered the tasting room. I wasn't kidding when I said this place was warm and welcoming. Although the food wasn't for us (darn!), we still enjoyed the aromas as we sipped our way through the tasting list.
We first started with the 2010 Estate Syrah Walla Walla Valley ($34), which is 100% Syrah. It had lots of toast and cigar box on the nose, with a nice balance of juicy fruit and spice on the palate. Next, the 2009 BalBOA Constrictor Walla Walla Valley ($36). Fun fact about this wine: the owners' daughter did the label! The apple must not fall far from the tree, because Amy Glase is actually an artist, too. The wine itself is made of 50% Cab, 33% Petit Verdot and 17% Malbec. It's got notes of raspberries and slightly bitter orange rind, with nice acidity and hints of tart berries, chocolate and sage. It was savory yet fruity and definitely tasty!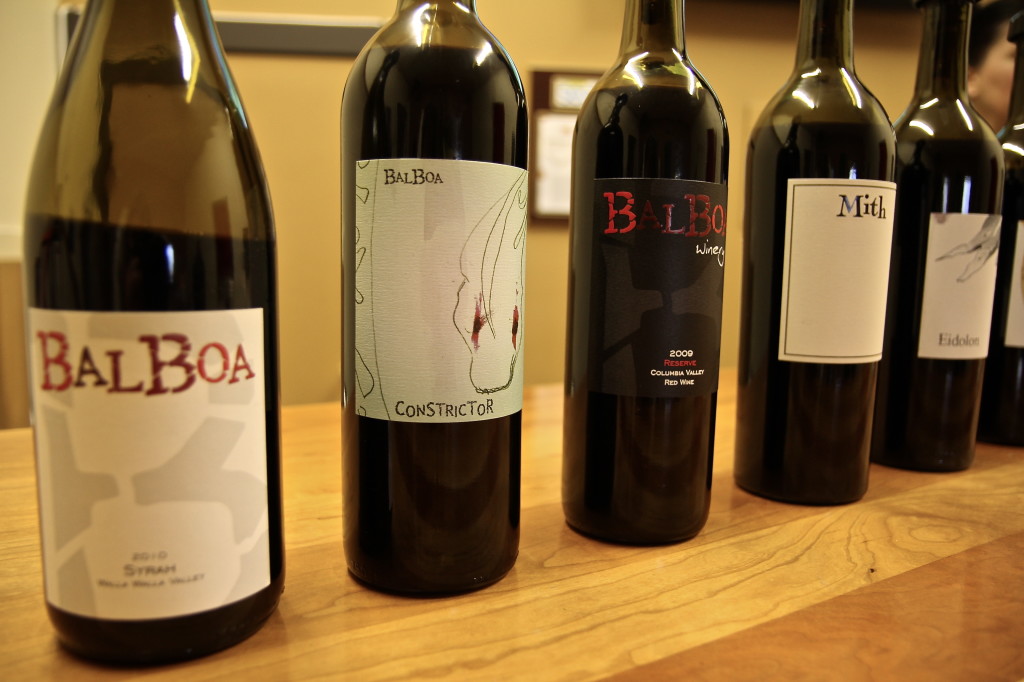 Next, we took our glasses out to the back so Tom could give us some samples from the barrel. I say "some" but I'm pretty sure we tasted everything in there. ;) Thanks, Tom!
Back in the tasting room, we tasted the newest release, the Sangiovese ($26) which had deep raspberry candy and black cherry aromas, as well as the 2011 Cabernet Franc ($40), with notes of pepper, vanilla and black fruits with minerally characteristics. Both were great 'bonus' pours since they weren't on the list. Back to the regular tasting list, we continued with the 2009 Mith Columbia Valley ($45), which is the winery's best seller at the moment. It's a proprietor's blend of different varietals every year, so you can never expect the same wine. The 2009 had ripe blueberry, cocoa and mocha aromas followed by flavors of black licorice, almond, cassis and dark fruit. The tannins were silky with a strong finish.
My favorite wine of the day, Sarah's too, was the 2009 Eidolon Walla Walla Valley ($75). Yes, this is pricey, but it is oh so worth it! Made up of 37% Cabernet, 37% Syrah, 14% Malbec and 12% Petit Verdot, this is a wine with a lot going on. It's got notes of dark red fruit, olives, truffles and herbs with a long, smooth finish. A great blend, and the name is interesting too – "eidolon" means "apparition" in ancient Greek thought.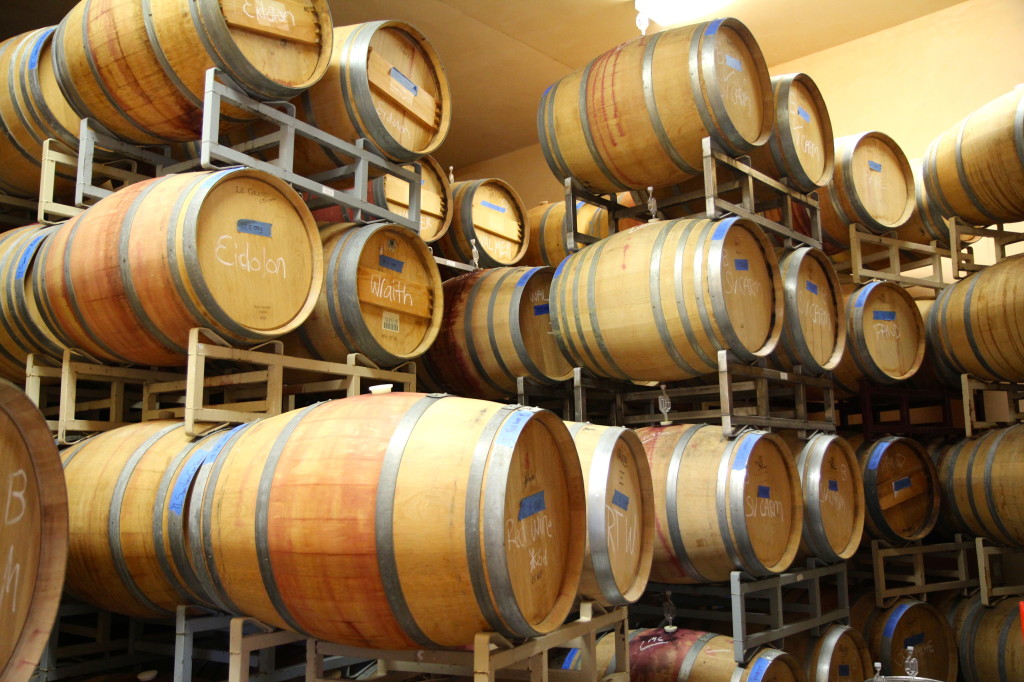 Overall, Balboa is a fun place to taste wine because the owners are really passionate about their winery and don't take themselves too seriously, and that carries over into the relaxed and friendly tasting environment. It's just an added bonus that the wines are good too! Plus, I'm a dog lover and who can resist a cute puppy named Moet (after Moët & Chandon Champagne) greeting you at the door. Cheers!
**Tasting Room Notes**
Open: Daily, 10-4pm
Phone: 509.529.0461
Location: 4169 Peppers Bridge Road – Walla Walla, WA
Tips: If you're a dog lover, head to their 2nd Annual 'Best In Show' dog show event in June, benefitting the Humane Society. There are many categories (like 'Best Catch' and 'Waggiest Tail'), a food truck, and lots of great people/dog watching.
Other: Their wine club is called the Ringside Club, a play off of the rocky soils where the vineyards are located. Get it? Boxing, Rocky, rocky soils…haha.