When you think of wine, Pearl Jam is probably not the first thing that comes to mind. Well, if you're a fan of this place, then you might! Yep, Sleight of Hand Cellars gets its name from winemaker/co-owner Trey Busch's favorite Pearl Jam song, Sleight of Hand (off the Binaural album). He started the winery with partners Jerry and Sandy Solomon in 2007 after a chance meeting at an auction, and since then Sleight of Hand has become somewhat of a cult winery in Washington, with the demand for their wines starting to outweigh production. It's good to be them!
The tasting room itself is cool and funky, decorated with an old jukebox, several hundred records (they take music requests!) and swag inspired by rock albums. Check out the pic of the Vitalogy album and 'Vintology' sweatshirt below for proof! The winery also has a magic theme, which came about from the name, naturally, but it was imagery of vintage magic posters that inspired the labels and names of the wines (ie: 'The Magician' and 'Levitation'). It's easy to see that the tasting room has a fun vibe and, although they make serious wines, the owners don't seem to take themselves too seriously. Yes, there's even a bottle called The Conjurer with Neil Patrick Harris' face on it (he's a wine club member). My point exactly.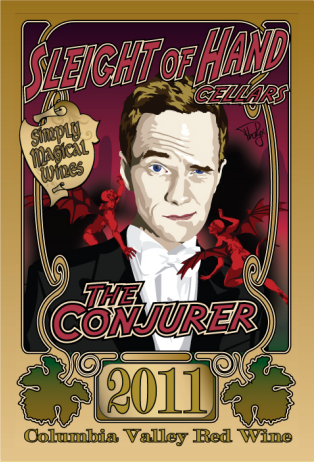 We started the tasting with the 2012 Magician's Assistant Rosé ($18), made from 100% Cabernet Franc. Keith, the assistant winemaker who was helping to pour wines, told us that the grapes spent 20 minutes on the skin (to give it color), then went to stainless steel followed by 4 months in neutral French oak barrels off the lees. Side note: 'Lees' is a term for the sediment of wine in the barrel in case I lost you. The sediment is actually the result of dead yeast and other particles that fall to the bottom of a vat of wine from fining. This Rosé had nice strawberry and watermelon flavors with a crisp yet buttery mouth feel. Pretty tasty. Next, we tried the 2011 The Conjurer Red Blend ($28). The newest member of their wine portfolio, this Bordeaux-style blend is made of 53% Cabernet, 34% Merlot, and 13% Cab Franc and aged for 14 months in 100% French oak. It had nice aromas of toast, vanilla, and buttery shortbread with fresh raspberries. Smooth and easy to drink, I liked this wine… and not just because of NPH's smirk on the label! Production was about 460 cases and something tells me this one will go fast!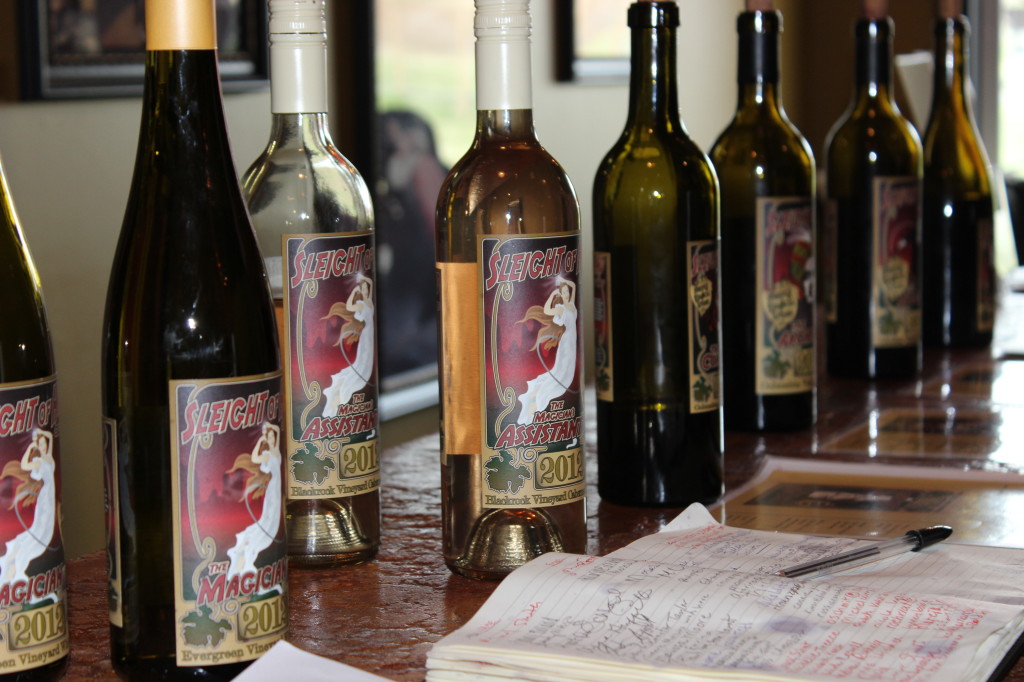 Next up was the 2010 The Archimage Red Blend ($52), a blend of 45% Cab Franc, 43% Merlot, 6% Cab, and 6% Petit Verdot. Very dark in color, it's bold, spicy and ripe. I got aromas of black licorice, cola, and ripe berries. It's good, but I think this wine will be awesome in 5-6 years, maybe even longer if you can wait!  The next wine we tried was the 2010 The Illusionist Cabernet ($52). Also spicy, with tobacco and vanilla aromas and a nice long finish. I would definitely age this tasty wine and try it again in 10 years. I know, it seems sooo far away! I'll try to hold on to a bottle or two for you. :) The last wine of the day was the 2010 Levitation ($42), made of 100% Syrah grapes from several different vineyards. With raspberries dominating the nose, it's big, balanced and really great. This wine could also benefit from a few years of aging.
If you like to switch things up and are looking for a laid back and fun place to taste wine (or just want to check out the vinyl), then definitely add Sleight of Hand Cellars to your list of places to hit up in Walla Walla (you can read more about my weekend here). By the way, all this Pearl Jam talk made to want to play the Sleight of Hand song on Spotify… all that's missing now is a bottle of The Conjurer to really pull it all together!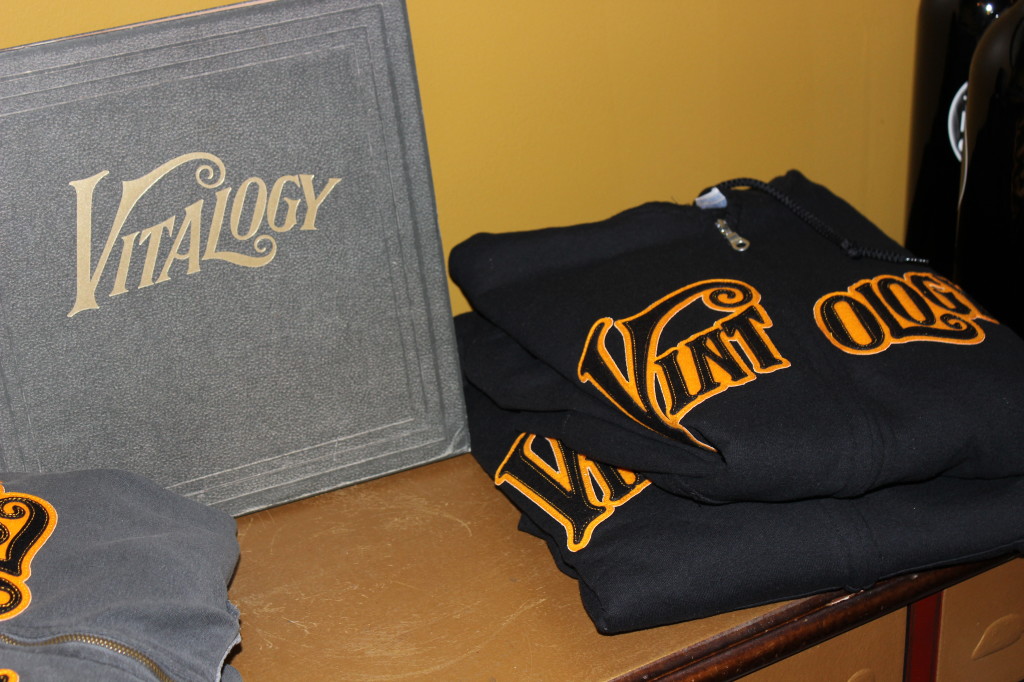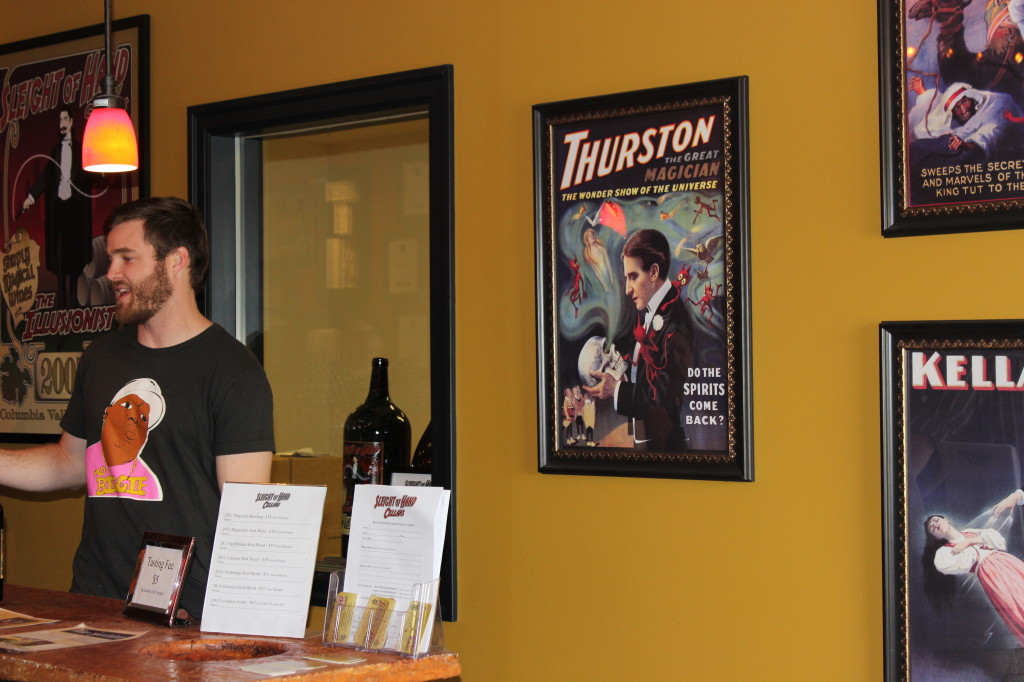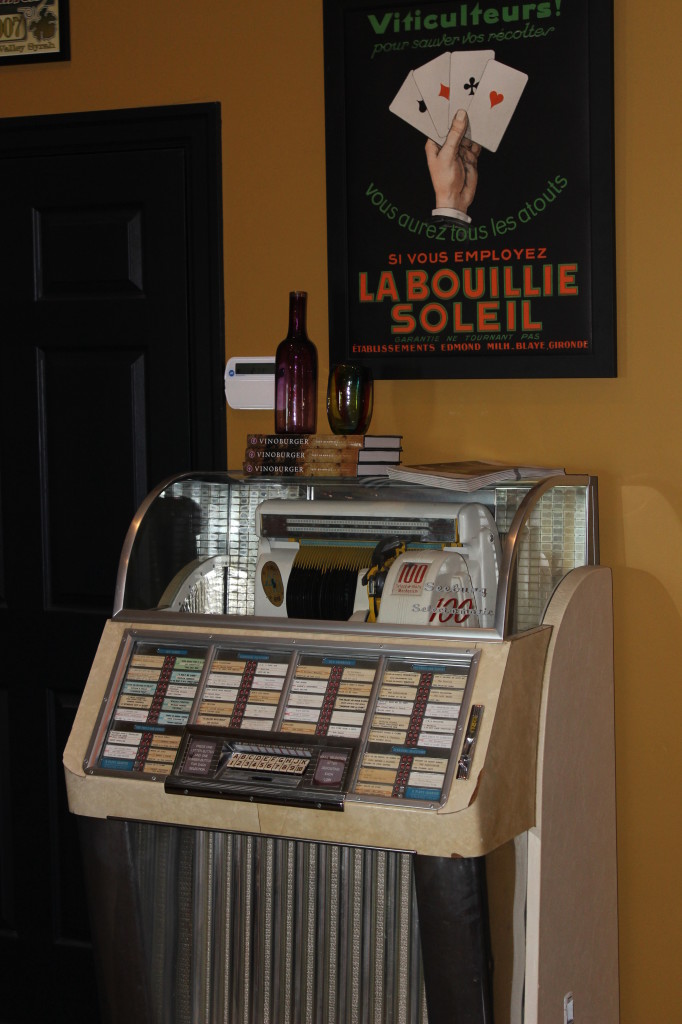 **Tasting Room Notes**
Open 11-5 Thur-Sat or by appointment.
Tasting Fee: $5
Phone: 509.525.3661
Location: 1959 J B George Road – Walla Walla, WA
Tips: The winery is located right next door to Saviah Cellars. Park at one place and walk on over to the next!